RARE UNUSED SET!!!

Here's a 1938 Standard Brands premium..."Charlie McCarthy's Radio Party Game"!
Game is complete and in original outer (mailing) envelope. This set was never broken apart and played with! It's RARE to find one of these sets in unused condition.
Includes Spinner, Charlie figure, and four each of Edgar Bergen, Robert Armbruster, Nelson Eddy, Dorothy Lamour and Don Ameche.Also includes the game envelope with instructions, all packaged in the outer mailing envelope.

Two of the boards have "broken" (likely from age). You can see them in the photos....it is the Bergen card and the Armbruster card. I will wrap this tightly and ship it and hopefully none of the other characters will break loose.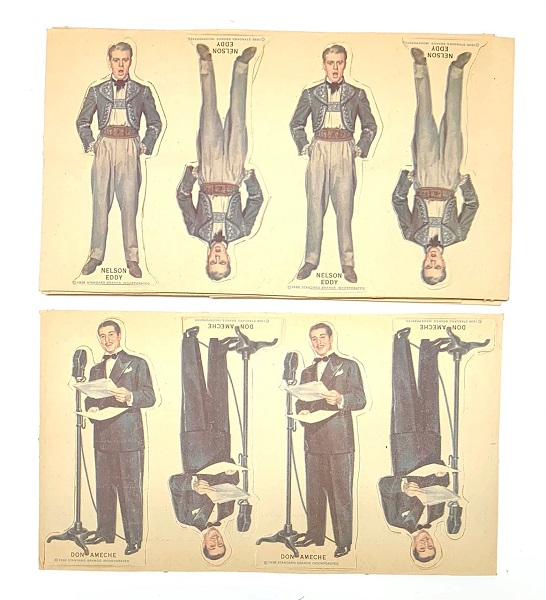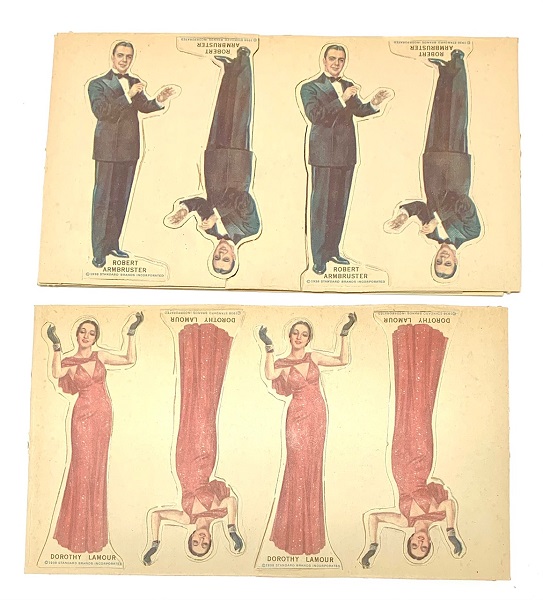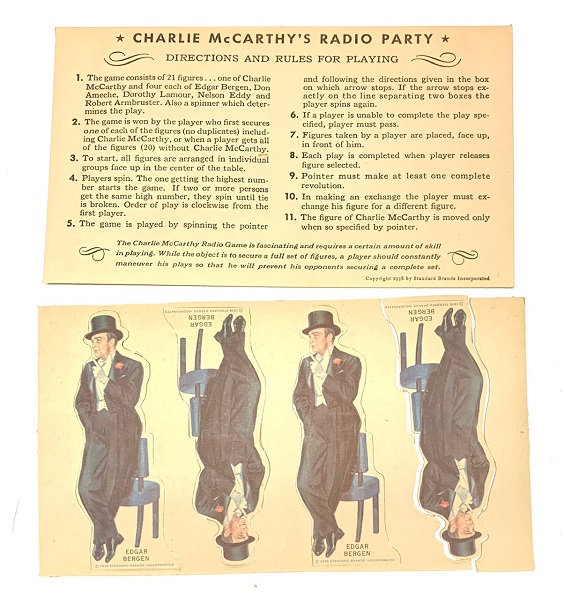 Comes in an archival mylar sleeve with acid-free backboard.
RARE RARE RARE

$29.95
PLEASE NOTE - If you are not ordering for U.S. delivery, you MUST contact me BEFORE ordering to determine shipping options and rates. The flat rate postage fee DOES NOT APPLY to orders shipped OUTSIDE the United States. Simply send me a list of the items you wish to order and I'll get back to you with the shipping options and rates. Once you decide how you'd like the order shipped, I can send a PayPal invoice directly to you (or we can work out other payment arrangements, if necessary). Thank you!

Charlie McCarthy Radio Party Game - RARE Unbroken Boards!
Product Code: CMRPG- VB18
Availability: 1
Related Products
Tags: Charlie McCarthy, Bergen, radio, ventriloquist, toy, unbroken