BACK IN STOCK!

These new stage-sized Chinese manipulation coins are GORGEOUS.... just the thing to "dress up" your parlor or stage magic.
These NEW Chinese coins have been designed especially for the stage performer. They are a LARGE coin, measuring 2-1/8" in diameter (nearly half again as big as a dollar-sized coin, which measures 1-1/2" in diameter), yet they are THIN, allowing you to palm quite a number of them. In fact, they are barely thicker than one millimeter each!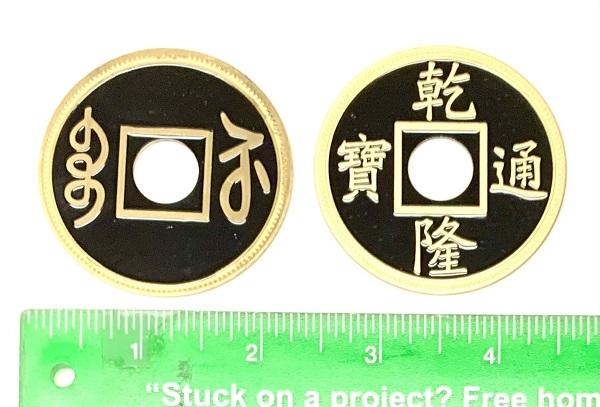 From the appearance to the feel, no detailed has gone unexamined on these lovely coins. This Chinese Manipulation Coin is made of refined brass with special black accenting.

$6.95
PLEASE NOTE - If you are not ordering for U.S. delivery, you MUST contact me BEFORE ordering to determine shipping options and rates. The flat rate postage fee DOES NOT APPLY to orders shipped OUTSIDE the United States. Simply send me a list of the items you wish to order and I'll get back to you with the shipping options and rates. Once you decide how you'd like the order shipped, I can send a PayPal invoice directly to you (or we can work out other payment arrangements, if necessary). Thank you!
Chinese Manipulation Coin - STAGE-Size - BLACK
Product Code: CMC - RB23
Availability: 12
Related Products
Tags: Chinese, Manipulation, Coin, magic, trick