These new half dollar-sized Chinese Palace coins are GORGEOUS.... just the thing to "dress up" your coin magic. They match the Chinese coins used in the new Hopping Half with Chinese Coin set that I sell (only those are dollar-sized)l.
The use of the "palace" coin originated in the Tang Dynasty. Later, during the Qing Dynasty, the development of palace coins reached its peak. At that time, palace coins were cast in an official furnace and mainly used to decorate the festival celebrations of the imperial palace. In the twelfth lunar month, the casting department would send a batch of palace coins into the imperial palace as pendants to reward nobility. The biggest difference between palace coin and folk coin is that the brass used for palace coin is more refined and the production is more exquisite.
From the appearance to the feel, no detailed has gone unexamined on these lovely coins. This Chinese Palace Coin is made of refined brass with special dark accenting. The diameter of the coin is 31mm, which is the same as the US Kennedy half dollar coins, yet the color contrast is striking (great for transposition effects).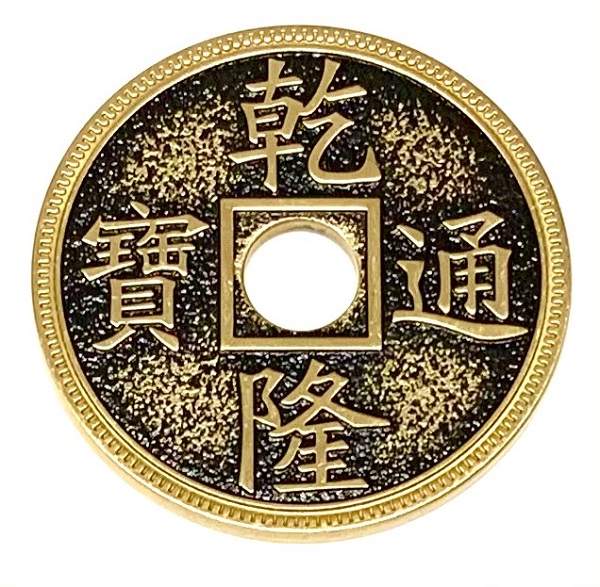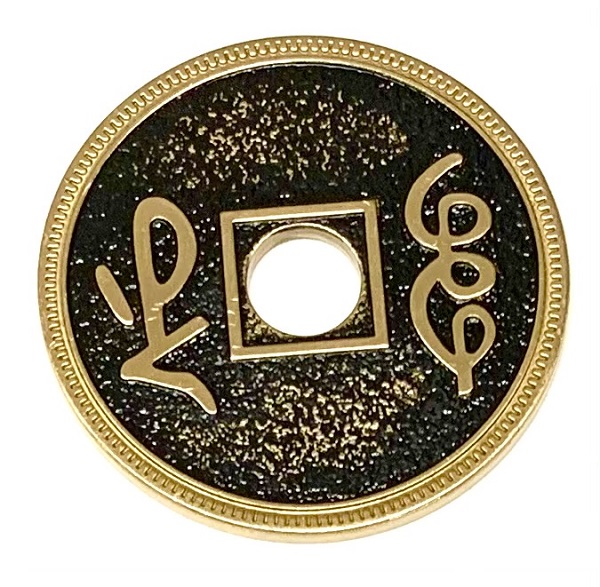 This coin is also available in a set of four along with one perfectly fitted expanded shell, plus a link to a 20+ minute video tutorial by Jimmy Fan teaching three different excellent routines. Jimmy always has great, innovative moves and routines with coins that look much more difficult than they really are. His teaching is easy to follow and enjoyable. See the links below for a set in either dollar or half dollar size.

(NOTE -- The Chinese Palace coin is also available in DOLLAR size. See link below)
$4.95
PLEASE NOTE - If you are not ordering for U.S. delivery, you MUST contact me BEFORE ordering to determine shipping options and rates. The flat rate postage fee DOES NOT APPLY to orders shipped OUTSIDE the United States. Simply send me a list of the items you wish to order and I'll get back to you with the shipping options and rates. Once you decide how you'd like the order shipped, I can send a PayPal invoice directly to you (or we can work out other payment arrangements, if necessary). Thank you!
Chinese Palace Coin - HALF DOLLAR-Size
Product Code: CPC~HD - RB29
Availability: 7
Related Products