The Chinese Sticks has always been a favorite routine of mine. I believe I've owned just about every type of set made. I imported this set from Hong Kong and it's very nicely made.

These sticks are approximately 15-1/4" long by 3/4" square. Yes, they're "skinnier" than most sets out there. They're much easier to hold due to their size. Despite their "skinny" size, they can be seen in the largest auditoriums. Naturally, they'll also play even for small groups n a living room!
The sticks themselves are brass and covered with a vinyl laminate that looks like wood grain. The string is durable and should last a long time. My only quibble with this set is the pompoms instead of tassels. I think tassels are much better to use...they appear to add length to the strings and are thus more deceptive. If you purchase these, I'd suggest replacing those pom poms with some nice yarn tassels!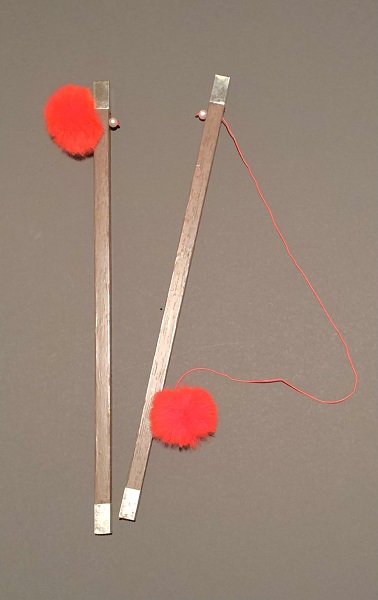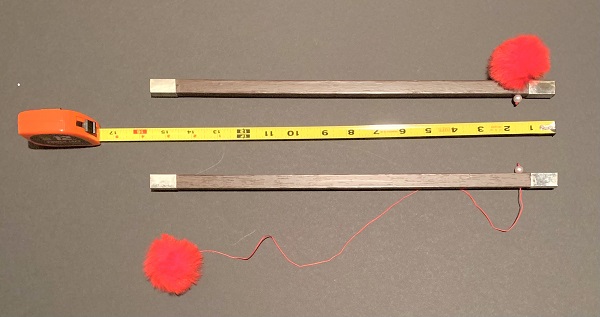 Includes the set of two sticks in a deluxe silk-covered display box (not pictured). This set did not come with instructions, but if you request them I will include a set of instructions for another et of Chines Sticks (that work the same way, of course!).
This set is BRAND NEW and UNUSED.

PLEASE NOTE - Even though this set is BRAND NEW, it is listed in my "Used/Collectible" category...meaning I have this ONE set only. When it sells, I do not know when or even IF I will ever have another set available. If you're interested in it, PLEASE do not hesitate!

Retail is $89.95. Own this set for only...

$69.95 -- NEW LOWER PRICE - $49.95
PLEASE NOTE - If you are not ordering for U.S. delivery, you MUST contact me BEFORE ordering to determine shipping options and rates. The flat rate postage fee DOES NOT APPLY to orders shipped OUTSIDE the United States. Simply send me a list of the items you wish to order and I'll get back to you with the shipping options and rates. Once you decide how you'd like the order shipped, I can send a PayPal invoice directly to you (or we can work out other payment arrangements, if necessary). Thank you!
Chinese Sticks - Super Smooth Set
Product Code: CS~SS - MBSid
Availability: 1