This time-honored classic comedy routine is the epitome of "pack flat / play big" magic! And not only will your audiences love the inherent comedy in this fantastic effect, but you'll have just as much fun presenting it! (And you KNOW you'll have fun presenting it because you're INSURED!)
A card is selected by a spectator. Then, after a few fancy cuts and shuffles, you announce with supreme confidence the name of the spectator's randomly selected card. OOPS! The audience will quickly let you know that you're WRONG! No worries...it sometimes happens to the best! So you try again....a few more cuts and shuffles... and again, you MISS!
It's time to really make things right. You now proudly produce your very special Insurance Policy. It's for magicians only! Inside is a list of conditions that you read to the audience. These alone get laughs, as they're ridiculous and hilarious. If after hearing these conditions the audience doesn't agree to let you off the hook, ask the spectator to open the policy. As he unfolds the policy, a huge card is revealed...and yes, it's the spectator's card! This super jumbo card is 18 inches wide by 24 inches high! Believe me, any audience will be impressed!

This is one of those all-too-rare effects that plays just as well onstage as it does close-up. I remember seeing Dick Stoner do this on a TV show years ago and it KILLED. The best part is, it packs truly flat. This makes it ideal to carry in your case as an emergency time-filler if needed, or you can certainly perform it as a feature in every show!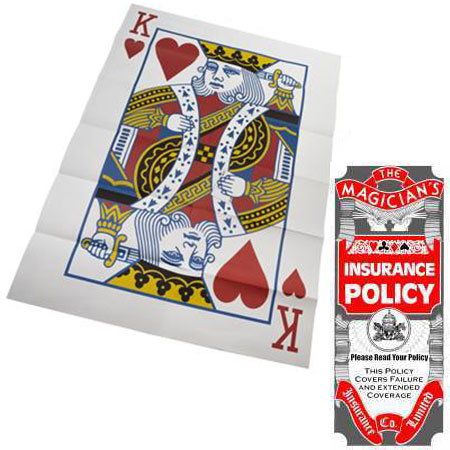 You receive the Insurance Policy (printed on heavy paper stock) and complete instructions (including simple directions for a recommended card force). Don't let the low price fool you, this can be a signature routine!
$4.95
PLEASE NOTE - If you are not ordering for U.S. delivery, you MUST contact me BEFORE ordering to determine shipping options and rates. The flat rate postage fee DOES NOT APPLY to orders shipped OUTSIDE the United States. Simply send me a list of the items you wish to order and I'll get back to you with the shipping options and rates. Once you decide how you'd like the order shipped, I can send a PayPal invoice directly to you (or we can work out other payment arrangements, if necessary). Thank you!

Insurance Policy
Product Code: IP - MB8
Availability: 6