You display an ordinary matchbox along with a long needle. You place the needle against the center of the matchbox and push.... the needle penetrates the box and emerges from the other side. The needle is passed completely through the box, as is the ribbon attached to the end of the needle. You now state that you're using a "magic needle" and open the matchbox. As the drawer is turned over, a solid brass block that completely fills the drawer drops out! The needle has apparently penetrated this block...a true "solid trough solid"!
No sleights or switches of any kind. Fully self-contained. Te brass block weighs four ounces... a quarter of a POUND!
This precision-made magical miracle comes complete with matchbox, block, 6" needle, ribbon, plastic carrying tube for needle, plastic carrying box for the matchbox and block, plus detailed, photo-illustrated instructions.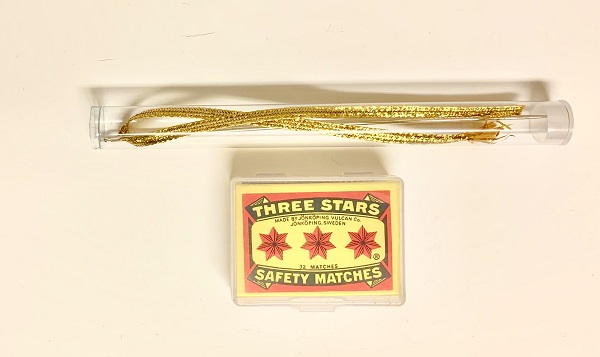 Retail is $39.95. Buy one today for only...
$24.95
PLEASE NOTE - If you are not ordering for U.S. delivery, you MUST contact me BEFORE ordering to determine shipping options and rates. The flat rate postage fee DOES NOT APPLY to orders shipped OUTSIDE the United States. Simply send me a list of the items you wish to order and I'll get back to you with the shipping options and rates. Once you decide how you'd like the order shipped, I can send a PayPal invoice directly to you (or we can work out other payment arrangements, if necessary). Thank you!
Miraculous Penetration - AKA Matchbox Penetration
Product Code: MPMP - MB19
Availability: 3
Tags: miraculous, penetration, needle, brass, magic, trick