One of the finest pocket tricks EVER invented! A brass canister, lid and die are removed from a velveteen pouch and examined. As you look away, a spectator puts the die in the canister, remembers the number on top, then covers it with the lid. You turn around, concentrate, then write a number on a piece of paper. The lid is lifted, revealing the number on the die...it matches the prediction! NO questions. NO fishing. NO outs! And YES....everything is fully examinable!

This clever upgrade of the original Die-abolical Divination gives you ALL the information... no need for vague wordplay. Not only do you NOT need to turn the box over to discern the number, you don't even need to touch the box! Don't confuse the Mental Die-Cipher Box with the various inferior versions of Mental Die. This is much better!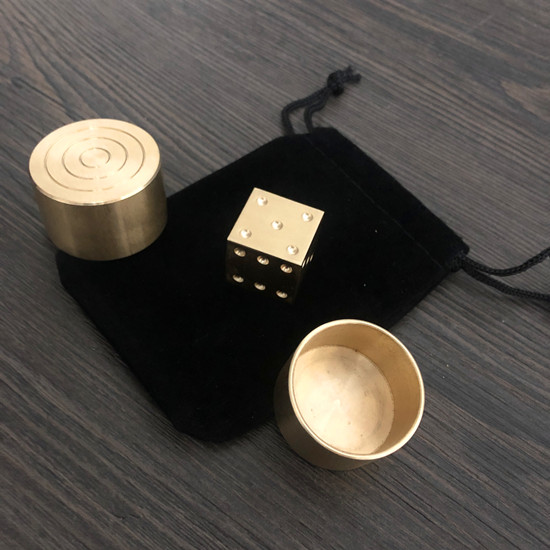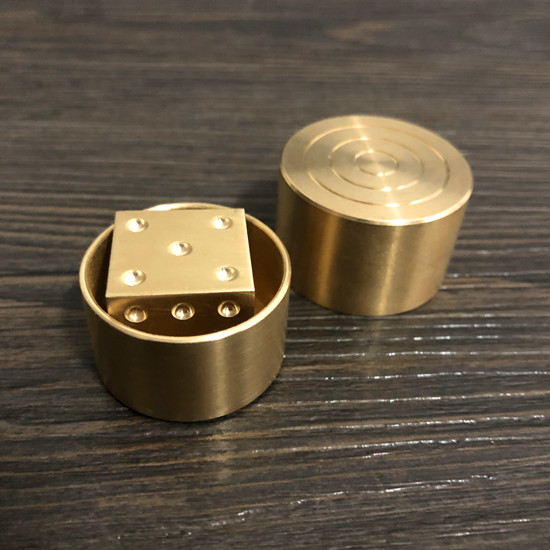 Comes complete with the deluxe brass canister and die, velveteen drawstring pouch and instructions. NOTE - The handling and presentation detailed in the instructions are the ORIGINALS.... created by Jon Racherbaumer and Lee Freed in 1984, and written up by me when I worked for Paul Diamond in 1986. NO ONE ELSE offers these original instructions and presentation!
Suggested retail is $49.95. Own this one for only...
$29.95
PLEASE NOTE - If you are not ordering for U.S. delivery, you MUST contact me BEFORE ordering to determine shipping options and rates. The flat rate postage fee DOES NOT APPLY to orders shipped OUTSIDE the United States. Simply send me a list of the items you wish to order and I'll get back to you with the shipping options and rates. Once you decide how you'd like the order shipped, I can send a PayPal invoice directly to you (or we can work out other payment arrangements, if necessary). Thank you!
Mental Die-Cipher Box
Product Code: MDCB - MB20
Availability: 1