I like it! This is just like the apparatus you see in the antique magic sets from Europe.... or illustrated in the Professor Hoffmann books! It's a really cool item that makes for a lovely display on a magic shelf, or you can even use it in actual performance as an example of how magic used to be performed a hundred years ago!
A borrowed coin is placed on a pedestal and covered. When the cover is lifted the coin is seen to have changed or vanished. The cover is seen to be clearly empty.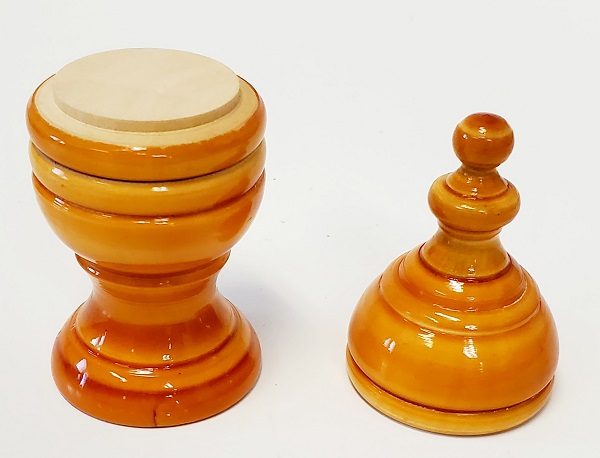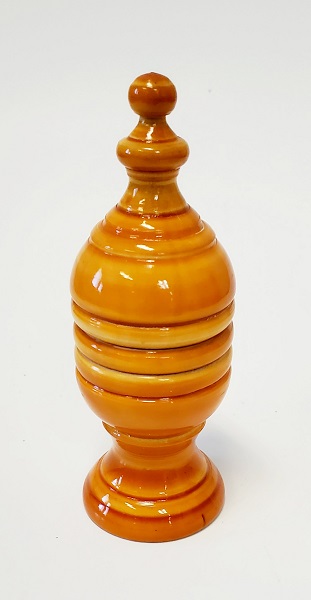 You can use the apparatus to produce, vanish or change a coin. Purchase two of them and you can also do a passe-passe coin routine!
Mechanical in working ( works exactly like the classic "Ball & Vase" trick) and comes complete with instructions. Beautifully crafted in wood. Measures approximately 4-3/4" high with a diameter of approximately 1-3/8". Can hold or exchange a coin up to an American Half Dollar in size.
$19.95

PLEASE NOTE - If you are not ordering for U.S. delivery, you MUST contact me BEFORE ordering to determine shipping options and rates. The flat rate postage fee DOES NOT APPLY to orders shipped OUTSIDE the United States. Simply send me a list of the items you wish to order and I'll get back to you with the shipping options and rates. Once you decide how you'd like the order shipped, I can send a PayPal invoice directly to you (or we can work out other payment arrangements, if necessary). Thank you!
Coin Pedestal - Wooden
Product Code: CP - MB9
Availability: 2