Whether you're new to coin magic or a seasoned pro, this half dollar-sized box is the one you want! In fact, it's the type that many workers refer to as the best coin box on the market today! Buddha Coin Boxes are used by some of the finest coin magicians in the world, and are often called the most attractive and functional boxes available.
If you are familiar with the standard Okito Box moves, you will no doubt already see how the curved sides of the Buddha-style Box will make those moves virtually self-working!
This is the famous "Boston" model (sometimes also referred to as the "German Box").... it has a subtlety that the standard Okito Box does not that will really take the routines to the next level!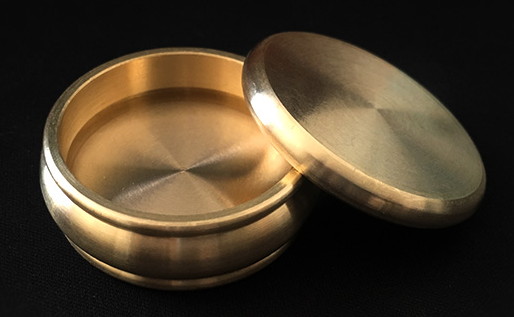 Here's a demonstration of a basic routine that is easy to do....
Package includes a link is included to an on-line tutorial video that teaches the very nice multi-phase routine shown above. PLUS, many additional routines and ideas are abundant in magical literature and videos.
The suggested retail for the Buddha Boston Coin Box is $29.95. While they last, order one for only...

$21.95
PLEASE NOTE - If you are not ordering for U.S. delivery, you MUST contact me BEFORE ordering to determine shipping options and rates. The flat rate postage fee DOES NOT APPLY to orders shipped OUTSIDE the United States. Simply send me a list of the items you wish to order and I'll get back to you with the shipping options and rates. Once you decide how you'd like the order shipped, I can send a PayPal invoice directly to you (or we can work out other payment arrangements, if necessary). Thank you!
Buddha Boston Coin Box - Half Dollar Size
Product Code: BBCB - RB4
Availability: 6
Related Products