This is a lovely dollar-sized copper coin that may be used in any of your pet magic routines that call for a copper coin in dollar-size. Each "antique" coin is dated 1906 and features the Statue of Liberty and Ellis island on the front, with the Torch of Freedom on the verso. See the photo.
The detail is magnificent. Use this beautiful copper coin in your close-up coin routines and it'll garner attention all by itself. Ideal for Spellbound!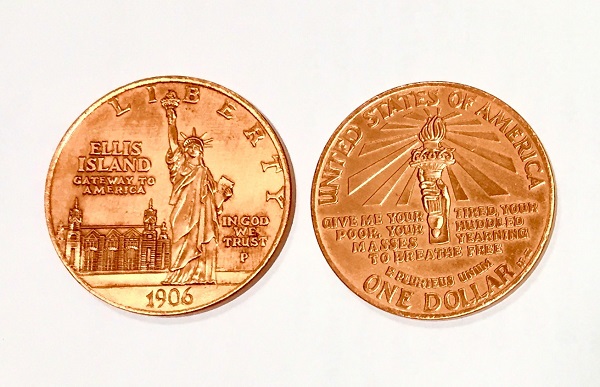 The suggested retail price for this gorgeous coin is $9.95. BUT.... you can buy them from me for only...
$7.50
PLEASE NOTE - If you are not ordering for U.S. delivery, you MUST contact me BEFORE ordering to determine shipping options and rates. The flat rate postage fee DOES NOT APPLY to orders shipped OUTSIDE the United States. Simply send me a list of the items you wish to order and I'll get back to you with the shipping options and rates. Once you decide how you'd like the order shipped, I can send a PayPal invoice directly to you (or we can work out other payment arrangements, if necessary). Thank you!
Liberty Coin - Copper - Dollar-size
Product Code: LCC - RB3
Availability: 4