BACK IN STOCK!!!

The Color Changing Knife is a time-honored magic classic. Generally credited to Walter Jeans, it became a popular pocket trick in the 1930s and has been popular with both amateur and pro magicians alike ever since. Virtually every pro worker has - at some point in their career - used this venerated effect.

The main reason the Color Changing Knife is a classic of magic and a staple in the repertoire of many professional close-up magicians is that the knives enable the magician to create beautiful and visual magic with seemingly ordinary objects. In today's popular parlance, they're organic. Once you learn the basic technique used in the routine, you'll likely never leave home without a Color Changing Knife set in your pocket!
The effect is clear cut: The performer shows a pocket knife to be white on both sides. With a simple pass through the magician's hand, the knife changes to black. The knife is again shown on both sides to be black. Another pass through the hand changes the knife back to white on both sides. For the finale', the knife actually penetrates the magicians trousers and ends up in his pocket! The knife may be handed out...it is fully examinable.
Now....personally speaking... I had the good fortune to work close-up magic regularly in restaurants (in additional to other strolling gigs) for several years. I worked two different restaurants three nights a week. It was a real proving ground. My favorite routine - without question - was the Color Changing Knife. In fact, I became *known* in those restaurants and in demand *because* of the knife routine! I couldn't begin to tell you how many repeat customers would come in with a guest and ask, "Do you have your knife tonight?" Or, "Can you show my friend your knife?"
Yes...it was that big a deal. Interestingly enough, the actual routine I performed was as simple as it could be: A white knife changed to black, then back to white, then penetrated the material on my trousers. Simple. Yet that simple, basic routine provided a canvas for me to get to know my spectators and make them laugh while fooling them. Repeatedly!
For the first time, I'm releasing my own personal routine along with this knife set. In the detailed instructions, you'll get all of the funny lines and bits of business. Folks, this routine is a WORKER. And if you can already do the Paddle Move, all you'll need to do is memorize the lines! Now THAT'S a short learning curve!
Frankly, I think the routine alone is worth the price I'm asking for the complete set. But my long-time customers know me better than that! I'm all about the lagniappe ("little bit extra") and when you buy this knife set, you get my routine included along with it for FREE.
Now...the knives themselves.... These are the type that the late dealer Al Cohen sold for years as the "Merrill Knives". They are slender and handle PERFECTLY. The "move" used in the routine is made so much easier by the shape of these knives. They are also relatively lightweight...a serious point of consideration when you're "loading up" to go out and perform. The knives measure 3" in length by 1/4" square. The bolsters are a beautiful polished brass with the handles having a lovely sparkle finish. The knives do open and while the blades aren't razor sharp, they are still knife blades and should be handled with care.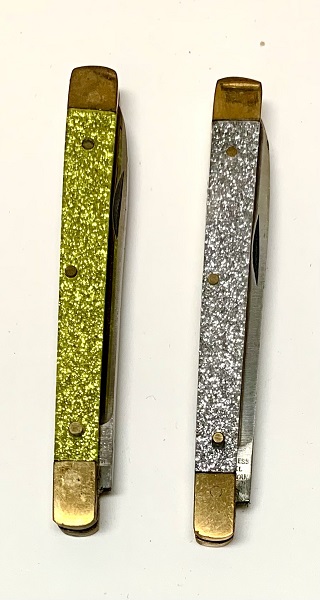 OK, with this outfit, you'll receive two matching pocket knives (Silver/Yellow Gold and Silver/Silver), a velveteen drawstring pouch for carrying the knives, basic instructions for the Color-Changing Knife routine, and my own personal comedy routine.

This complete set is a top shelf bargain.....

$29.95
PLEASE NOTE - If you are not ordering for U.S. delivery, you MUST contact me BEFORE ordering to determine shipping options and rates. The flat rate postage fee DOES NOT APPLY to orders shipped OUTSIDE the United States. Simply send me a list of the items you wish to order and I'll get back to you with the shipping options and rates. Once you decide how you'd like the order shipped, I can send a PayPal invoice directly to you (or we can work out other payment arrangements, if necessary). Thank you!
Color Changing Knife Set - Merrill-Type with Comedy Routine
Product Code: CCK~M - RB3
Availability: 2
Related Products
Tags: knives, color-change, magic, trick, tricks, knife, comedy, merrill