A fantastic "flash" trick for anytime in your act!
This is a wonderful stand-alone item or use it with the classic Magic Coloring Book! Display the streamer RAINBOW COLORED, then shake the colors OFF - and then the black & white pictures in the coloring book become colored! Then make the colors disappear out of the book's pictures, and the BLACK STREAMER becomes RAINBOW COLORED AGAIN!
Here is the effect if you use the streamer by itself: You display a black silk streamer, almost 36" in length! You ask your audience if they know that light is made up of the colors of the rainbow? That means the colors of the rainbow are always around us! "And if I move this black streamer throughout the air in a SPECIAL WAY - maybe I can catch the colors!" INSTANTLY, the BLACK silk streamer TRANSFORMS into a beautiful RED, YELLOW, and PURPLE RAINBOW COLORED streamer!"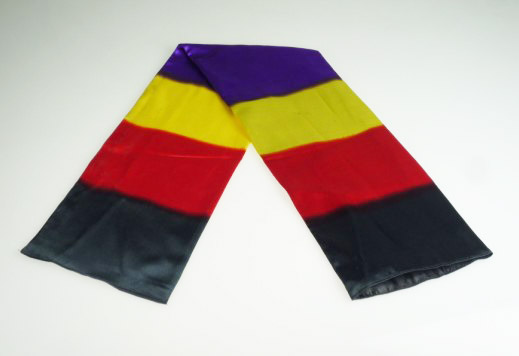 Streamer measures approximately 36" in length by 6-1/2" in width! Made of 100% quality silk. Imagine also using this as a production prop from your production tricks! Your audiences will gasp as you produce a beautiful Black streamer three feet in length and then make it change color!

100% self-working....just wave it in the air and it changes! A truly top quality magic item for only...
$14.95
PLEASE NOTE - If you are not ordering for U.S. delivery, you MUST contact me BEFORE ordering to determine shipping options and rates. The flat rate postage fee DOES NOT APPLY to orders shipped OUTSIDE the United States. Simply send me a list of the items you wish to order and I'll get back to you with the shipping options and rates. Once you decide how you'd like the order shipped, I can send a PayPal invoice directly to you (or we can work out other payment arrangements, if necessary). Thank you!
Color Changing Silk Streamer
Product Code: CCSS - MB9
Availability: 1
Tags: silk, streamer, color change, magic, trick