An ideal "flash" opening for an act set to music, or just perfect for the beginning (especially young) magician who needs some tricks that are *extremely* easy to do (i.e., "self-working").
The performer shows two separate colored silks, one Black, one White. Each silk measures approximately 13 " square. The silks are joined at their diagonal corners. The performer pulls both silks through his (or her!) fist and in an instant, BOTH silks change into Black AND White checkerboard design silks!
This trick may be repeated to transform them from the checkered silks back to their individual Black and White color silks.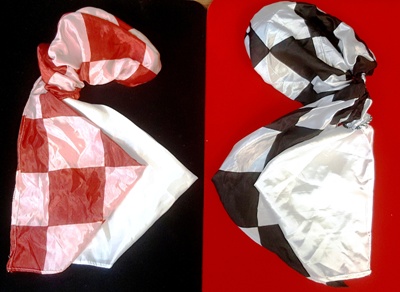 NOTE - Also available in Red and White Checkerboard design.
Fine quality silks come complete easy to follow instructions. Retail price is $$14.95. Order it from me for only...
$12.95
PLEASE NOTE - If you are not ordering for U.S. delivery, you MUST contact me BEFORE ordering to determine shipping options and rates. The flat rate postage fee DOES NOT APPLY to orders shipped OUTSIDE the United States. Simply send me a list of the items you wish to order and I'll get back to you with the shipping options and rates. Once you decide how you'd like the order shipped, I can send a PayPal invoice directly to you (or we can work out other payment arrangements, if necessary). Thank you!
Color Changing Silks - Black Checkerboard
Product Code: CCS~BC - MB20
Availability: 4
Tags: silk, color change, magic, trick, black, white, checkerboard