BACK IN STOCK!

Here's a telekinetic WONDER that can be done close-op...right under their noses!...and it'll BAFFLE them! Easy to do and a stunning piece of magical theatre!
A Sharpie cap is placed on top of a deck of cards, then covered with a transparent glass tumbler. The magician now "flicks" his forefinger - from the outside of the glass - without actually touching the Sharpie cap inside the glass (or anything!). Still...the Sharpie cap goes flying off the top of the deck! It's eerie....amazing....stunning!
NO electronics - NO magnets - NO flap card - NO string - NO glue - and yes, it's fully examinable!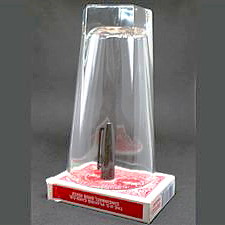 There have been a LOT of one- and two card gimmicks produced recently. I'm really not a fan of any of those tricks....but THIS one is in a class by itself. It actually WORKS and is a clever, clever idea!
Available in RED or BLUE Bicycle (see link below - if there's no link, I'm out of the RED version at the moment!).
Suggested retail price is $19.95. BUT... you can buy this entertaining effect for only...
$14.95
PLEASE NOTE - If you are not ordering for U.S. delivery, you MUST contact me BEFORE ordering to determine shipping options and rates. The flat rate postage fee DOES NOT APPLY to orders shipped OUTSIDE the United States. Simply send me a list of the items you wish to order and I'll get back to you with the shipping options and rates. Once you decide how you'd like the order shipped, I can send a PayPal invoice directly to you (or we can work out other payment arrangements, if necessary). Thank you!
Crashing (BLUE) - Robby Constantine
Product Code: C~B - RB30
Availability: 2