The Crystal Thief by Vernet has always been one of my favorite ways to vanish a small silk. It's so clean...so devious.... it's so BAFFLING!
The performer shows a transparent tube and pushes a small handkerchief through it. He then takes a sheet of paper, covers the cylinder, and wraps it up. Next, he then hands the wrapped cylinder to a spectator to hold. At some point later in the performance, the spectator is instructed to unwrap the cylinder, only to find the silk has completely vanished! All that remains is the empty cylinder!
It's easy to do, a real fooler, and best of all, the method will make you smile!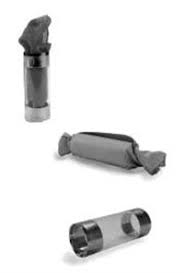 Comes complete with Crystal Thief, complete instructions, and - while they last! - a pure silk hanky to vanish!
A truly GREAT magic effect for only...
$8.95
PLEASE NOTE - If you are not ordering for U.S. delivery, you MUST contact me BEFORE ordering to determine shipping options and rates. The flat rate postage fee DOES NOT APPLY to orders shipped OUTSIDE the United States. Simply send me a list of the items you wish to order and I'll get back to you with the shipping options and rates. Once you decide how you'd like the order shipped, I can send a PayPal invoice directly to you (or we can work out other payment arrangements, if necessary). Thank you!
Crystal Thief - Vernet
Product Code: CT - MB13
Availability: 1
Tags: crystal, silk, tube, magic, trick, silk, silks, vanish, illusion