This is a deluxe enhancement of the classic Ball Vase trick. Some spectators might initially recognize this as being a "magic set" trick....UNTIL YOU PERFORM IT!
This vase is much larger and actually does more magic, yet is easy enough for a beginner to perform! But its versatility will make it a favorite of pro performers, too!
The basic effect: Open the vase and remove a small white silk handkerchief from inside. Place the silk back into the vase and put the lid back on. Make a magic gesture, take the lid off the vase- the white silk has turned into a white ball! Put the lid back on, make another gesture, take the lid off - the ball has changed back into a silk! Now open the vase, remove the white silk handkerchief, and put the lid back on the vase. Roll the handkerchief into a ball in your hand, whereupon the ball instantly becomes a solid golf ball! Put the ball into your pocket. Make a magic gesture, and remove the lid from the vase. The golf ball has magically transported back into the vase! Tap the top of the vase, which causes the ball to magically penetrate right through the bottom of the vase!. Finally, the lid is lifted one last time, and the golf ball has changed back into the white silk.
There are many routines and variations possible. The beginner can perform routines that are essentially self-working, whereas the pro performer will take time to develop his own, more intricate, handlings utilizing sleight of hand along with the silk-working nature of the prop itself.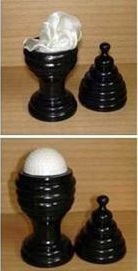 This is a nice, parlor-sized prop. The black vase stands approximately 6" tall. The silks provided are about 6" square, though you can opt to use your own, larger (9" or even 12" diamond cut) silks. Comes complete with printed instructions.
Suggested retail price for this lovely outfit is $12.95. Own it today for only...
$9.95
PLEASE NOTE - If you are not ordering for U.S. delivery, you MUST contact me BEFORE ordering to determine shipping options and rates. The flat rate postage fee DOES NOT APPLY to orders shipped OUTSIDE the United States. Simply send me a list of the items you wish to order and I'll get back to you with the shipping options and rates. Once you decide how you'd like the order shipped, I can send a PayPal invoice directly to you (or we can work out other payment arrangements, if necessary). Thank you!
Golf Ball and Silk Vase
Product Code: GBASV - MB18
Availability: 1