These cool little toys were issued in the early to mid-60's when Winch's "Winchell-Mahoney Time" TV show was at the height of it's popularity.
Winch was a genius at marketing to kids, and what kid could resist his own little "Jerry" and "Knuck" characters that would fit right on the top of his pencil? These were toys that you WANTED to take to school and show off!
You'll receive an original set - from Paul Winchell's own garage! - of two pencil toppers...one "Jerry" and one "Knuck". They will fit onto most any #2 pencil. OR....if you're the artistic type, you can put them on little pedestals and paint them (see photo below)!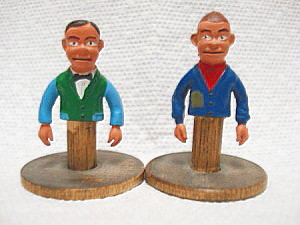 A true vintage find....and a real bargain! Get your set today for only...
$10.00
PLEASE NOTE - If you are not ordering for U.S. delivery, you MUST contact me BEFORE ordering to determine shipping options and rates. The flat rate postage fee DOES NOT APPLY to orders shipped OUTSIDE the United States. Simply send me a list of the items you wish to order and I'll get back to you with the shipping options and rates. Once you decide how you'd like the order shipped, I can send a PayPal invoice directly to you (or we can work out other payment arrangements, if necessary). Thank you!

Jerry Mahoney and Knucklehead Smiff Pencil Toppers
Product Code: JMKSPT - VB15
Availability: 1
Related Products
Tags: ventriloquism, Winchell, Maohney, Knucklehead, toys, vintage