JUMBO X RAY ENVELOPE - Astor
When this trick first came out, I sold a LOT of them! It's one of my favorite tricks to demo at conventions, because it's just such a BAFFLER! And then, when the purchaser sees how it works, he wants to show it to OTHER magicians! The people who have already bought this from me have been my best salesmen for it! It's truly an "intrigue method".... the way it works is so diabolically devious, you'll be tempted to reveal it to your audiences!

The magician shows five transparent Jumbo ESP cards. While the magician is facing away, the spectator is asked to choose one card and place it into the black plastic envelope, which is opaque, so it's impossible to see inside. The rest of cards are set aside where they cannot be seen. Obviously, there is no clue what card is being used, making this an impossible situation. Even though it is an impossible situation, the magician instantly reads the spectator's mind and tells which ESP card is in the envelope!
No sleight of hand! Everything can be examined! No marked cards or envelope! No magnets or electronics! This is truly an incredible clairvoyance effect! You'll do this two minutes after reading the instructions and you'll FOOL people with it!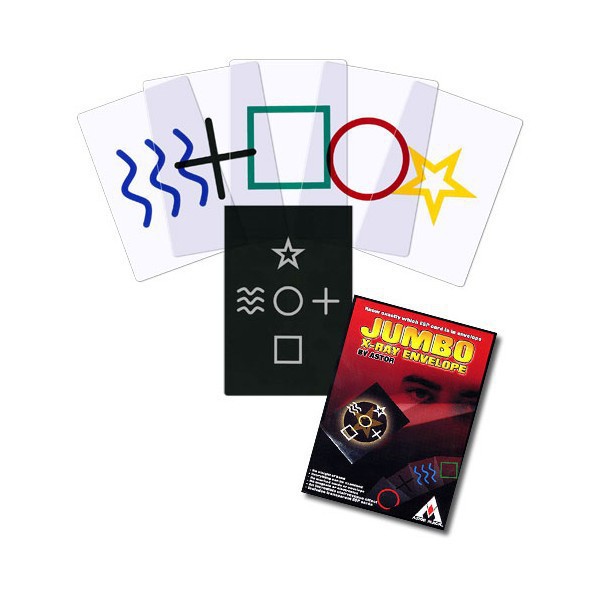 Comes complete with the special black plastic envelope, five transparent plastic Jumbo ESP cards and instructions. The envelope measures approximately: 7.5" x 5", with the ESP cards measuring approximately: 7" x 4.5".
Suggested retail price is $88.00. My price is...
$69.95
PLEASE NOTE - If you are not ordering for U.S. delivery, you MUST contact me BEFORE ordering to determine shipping options and rates. The flat rate postage fee DOES NOT APPLY to orders shipped OUTSIDE the United States. Simply send me a list of the items you wish to order and I'll get back to you with the shipping options and rates. Once you decide how you'd like the order shipped, I can send a PayPal invoice directly to you (or we can work out other payment arrangements, if necessary). Thank you!
Jumbo X Ray Envelope
Product Code: JXRE - MB11
Availability: 4
Tags: Jumbo, X Ray, Envelope, magic, trick, illusion, mentalism, clairvoyance