These wonderful hand-sewn miniature baseballs feature red leather with contrasting white stitching.
Each ball measures approximately 3/4" in diameter. The center core is solid and has a nice weight and "feel".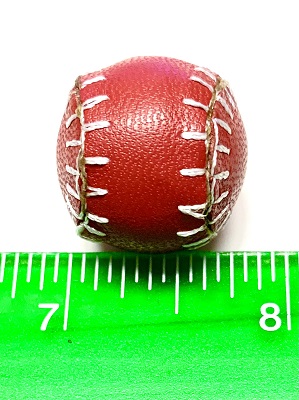 I sell the balls individually so you can buy a "set" of four... or less... or more!
Chop Cup sets also available ... see link below.

Suggested retail price is $9.95 each. You may buy them from me for only...
$5.95 each

PLEASE NOTE - If you are not ordering for U.S. delivery, you MUST contact me BEFORE ordering to determine shipping options and rates. The flat rate postage fee DOES NOT APPLY to orders shipped OUTSIDE the United States. Simply send me a list of the items you wish to order and I'll get back to you with the shipping options and rates. Once you decide how you'd like the order shipped, I can send a PayPal invoice directly to you (or we can work out other payment arrangements, if necessary). Thank you!
Baseballs - for Cups and Balls
Product Code: BB - RB17
Availability: 20
Related Products