TOO MANY RABBITS
This is a top quality set of sponge bunnies for the classic "rabbits multiply in the spectators' hands" routine.
Each set consists of THREE jumbo adults (measuring 4" tall by 3-1/2" wide by 1-1/2" thick) and a DOZEN babies (approximately 1-3/4" x 1-1/8" x 3/4")! There are LOTS of presentations possible with this outstanding set. The adult rabbits are hollow and may be turned inside out and formed into sponge balls or "rabbit eggs".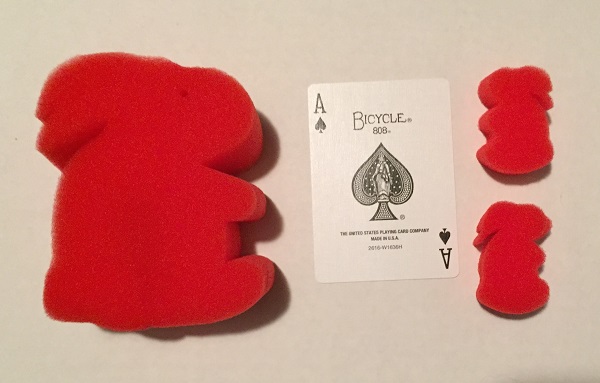 (poker sized playing card shown in above photo for scale...card not included with the bunnies!)
Brand new, with detailed handling instructions included.

Original retail was $14.95. While they last, you can order a set for only...
$7.95
PLEASE NOTE - If you are not ordering for U.S. delivery, you MUST contact me BEFORE ordering to determine shipping options and rates. The flat rate postage fee DOES NOT APPLY to orders shipped OUTSIDE the United States. Simply send me a list of the items you wish to order and I'll get back to you with the shipping options and rates. Once you decide how you'd like the order shipped, I can send a PayPal invoice directly to you (or we can work out other payment arrangements, if necessary). Thank you!

Too Many Rabbits - Sponge Bunnies
Product Code: TMR - MB5
Availability: 3
Related Products