These are getting harder and harder to find... Many (if not most) magic shops have completely discontinued them. And that's a shame... the Watch Box has been around for a hundred years or more, but in the hands of a good performer, it never fails to entertain and amaze an audience!
The magician borrows a wrist watch from a willing spectator and makes it disappear in a mysterious way. He then takes out a polished wooden box from his case or table and hands it over to the spectator. The spectator examines it and confirms that it is locked genuinely with a tiny padlock. The performer then draws attention to a key hanging from a ribbon around his neck. The spectator is handed the key and instructed to open the box. When he does, all are amazed to see the vanished watch inside!
The above is just a bare bones, basic routine. There is SO much more that can be done with this amazing utility apparatus!
You may use the box to not only produce items that have vanished, but it will also make items placed into it VANISH! The box may even be used as a Prediction Chest! It's a truly versatile piece of traditional magic apparatus!
The box supplied is beautifully hand-crafted in exotic teak wood, and comes complete with a small brass padlock and keys. Also included are detailed instructions for many applications for this versatile utility prop. Remember: You can secretly remove items from or introduce them into the locked box. Anything may be loaded or stolen from the box in the locked state (as long as it fits!). My own personal preference is to have the box out on the table the entire time and cover it with a silk foulard or hanky.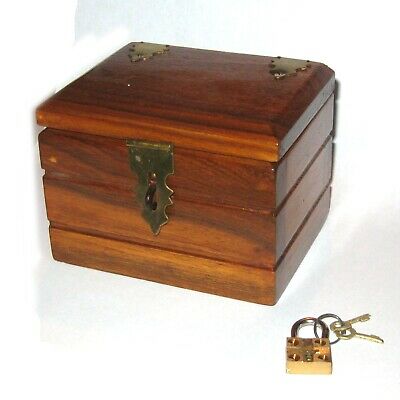 The original presentation for the Watch Box was to borrow a watch which was locked into the box by a spectator. He would retain the key. A loaf of bread was then introduced and broken open... inside the bread would be found the spectator's watch! Of course, when the box was unlocked and opened, it was now empty! Of course, this type of presentation could be used with any small personal item (ring, keys, etc.).
The box can also be used as a PREDICTION CHEST... Simply allow the spectators to have the box (sealed inside a cardboard box with tamper-proof tape) in advance of your performance. During the show, the cardboard box is opened and the wooden box is found. Load the "prediction" into the special watch box and you're home free! You'll get credit as being a Master Prognosticator (or something like that)....
The box measures approximately 4" x 3" x 2.75". and comes complete with the small brass padlock and key plus detailed instructions. Usually retails in the $34.95 range. Own this one for only...

$24.95

PLEASE NOTE - If you are not ordering for U.S. delivery, you MUST contact me BEFORE ordering to determine shipping options and rates. The flat rate postage fee DOES NOT APPLY to orders shipped OUTSIDE the United States. Simply send me a list of the items you wish to order and I'll get back to you with the shipping options and rates. Once you decide how you'd like the order shipped, I can send a PayPal invoice directly to you (or we can work out other payment arrangements, if necessary). Thank you!

Watch Box - Exotic Imported Teak Wood
Product Code: WB - MBSid
Availability: 3
Tags: watch, lippincott, magic, trick, illusion