One of the finest wands available today...and at a price you won't believe! This is a BEAUTIFUL wand.... it looks like it came from the finest jewelry store. It is, in a word, STUNNING.

This top quality wand was designed by a magician for magicians! The body comes apart to convert from a full-length wand (approximately 13-1/2" length) to a Close-Up Wand (approximately 8" length). Wand diameter is 1/2".
The weight is just perfect for the Vernon (actually Mora) Wand Spin. Overall weight of the full-size wand is approximately 5.5 ounces, with each tip weighing in at about 2 ounces each! Those brass tips are HEAVY!
The body of the wand is hollow brass, with the black color being baked-on enamel.
A special feature of this wand is the fact that one end is MAGNETIC.... and this opens up all sorts of intriguing possibilities! The magnetic strength may be adjusted or even removed entirely if desired!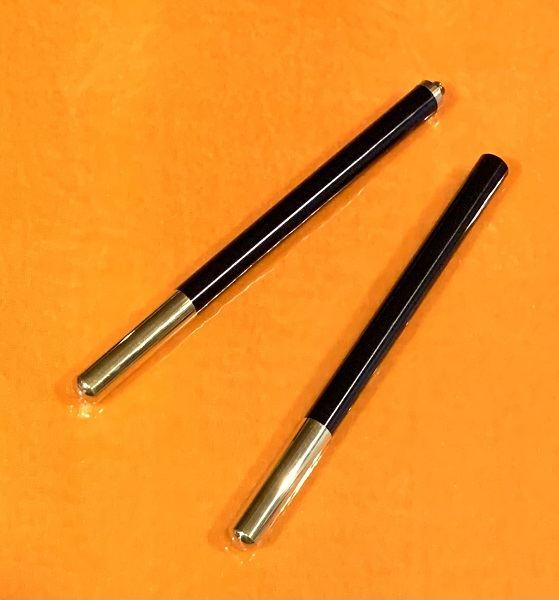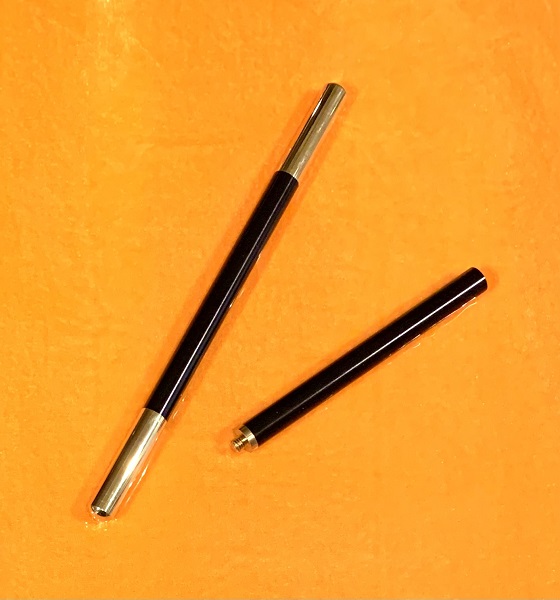 Each wand is individually packaged in its own box.

The suggested retail price for these lovely wands is $39.95 each. While they last, you may buy them from me for only...
$24.95
PLEASE NOTE - If you are not ordering for U.S. delivery, you MUST contact me BEFORE ordering to determine shipping options and rates. The flat rate postage fee DOES NOT APPLY to orders shipped OUTSIDE the United States. Simply send me a list of the items you wish to order and I'll get back to you with the shipping options and rates. Once you decide how you'd like the order shipped, I can send a PayPal invoice directly to you (or we can work out other payment arrangements, if necessary). Thank you!
Magic Wand - Convertible PRO MODEL
Product Code: MWCPM - MB19
Availability: 5
Related Products