Without question, this is a must-have book for any mentalist-magician! Between the covers of this book are to be found the finest of modern day miracles by the leading performers in this field of pseudo-mentalism. Tricks that have baffled thousands are clearly explained for your immediate use. Here is Annemann at his best! Tricks upon which he built his reputation. They're all here, plus the better mental effects from his famous Jinx Magazine - making in all a gigantic collection of up-to-the-minute audience tested effects that are in a class by themselves. It's superb!
There are 200 tricks, 13 chapters. Effects with Billets & Pellets, Publicity Effects, Dead or Alive, Book Tests, Thought Foretold, Miscellaneous masterpieces, Envelope Necromancy, Miracle Slate Routines, Money Mentalism, Blindfold Reading, Mentalism with Cards, and Psychic Codes.
318 pages, softcover. Edited by John J. Crimmins, Jr.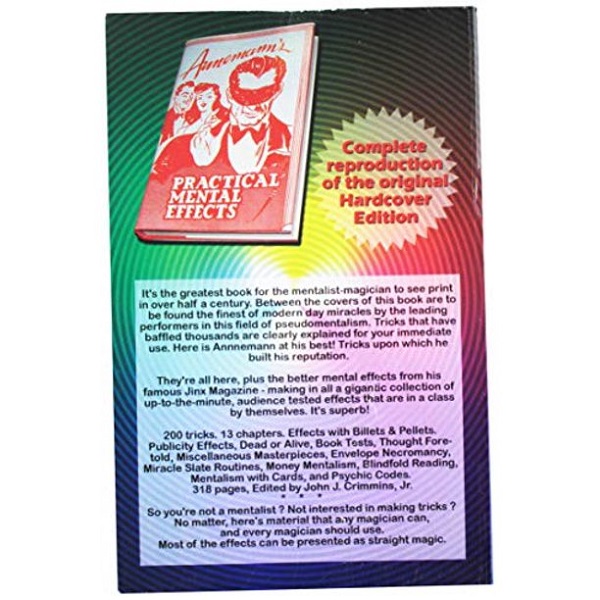 So you're not a mentalist? Not interested in making tricks? No matter, here's material that any magician can, and every magician should use. Most of the effects can be presented as straight magic.
I recently got a special buy on these. The publisher's suggested retail price is $12.95 (and a heck of a bargain at that!). While my supply lasts, you may order it for only...

$7.95
PLEASE NOTE - If you are not ordering for U.S. delivery, you MUST contact me BEFORE ordering to determine shipping options and rates. The flat rate postage fee DOES NOT APPLY to orders shipped OUTSIDE the United States. Simply send me a list of the items you wish to order and I'll get back to you with the shipping options and rates. Once you decide how you'd like the order shipped, I can send a PayPal invoice directly to you (or we can work out other payment arrangements, if necessary). Thank you!
Annemann's Practical Mental Effects - Book by Ted Annemann
Product Code: APME - BB
Availability: 5
Tags: mental, mentalism, annemann, magic, mystery, tricks, trick