This fantastic book by the supremely-talented Dutch juggler Niels Duinker is a MUST HAVE! Even if you never put any juggling into your show, it's a valuable skill to develop. With this detailed book, you will learn to juggle and perform family-friendly comedy routines!
Juggling is fun, and with this book you will learn the basics! You will learn how to juggle up to 4 balls, so you can amaze your friends.
This book also includes plenty of juggling jokes and gags that are guaranteed to get smiles and laughs from everyone you share them with! Juggling improves hand-eye coordination and is a fun exercise. People will literally applaud you for your work-out!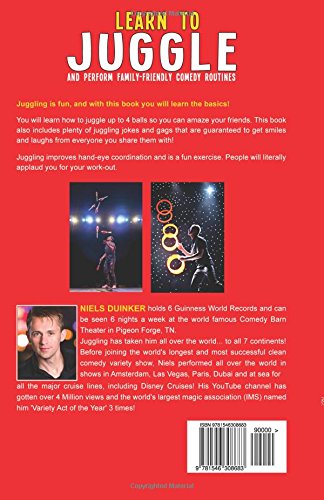 Books measures 5-1/2" x 8-1/4" and is 68pp of FUN! The regular retail price for the book is $13.95. While they last, you can order one from me for only...
$9.95
PLEASE NOTE - If you are not ordering for U.S. delivery, you MUST contact me BEFORE ordering to determine shipping options and rates. The flat rate postage fee DOES NOT APPLY to orders shipped OUTSIDE the United States. Simply send me a list of the items you wish to order and I'll get back to you with the shipping options and rates. Once you decide how you'd like the order shipped, I can send a PayPal invoice directly to you (or we can work out other payment arrangements, if necessary). Thank you!
Learn to Juggle and Perform Family Friendly Comedy Routines - Book by Niels Duinker
Product Code: LTJ
Availability: 3