A new set of balls for the classic effect! These new solid rubber Multiplying Billiard Balls are VERY easy to grip, making the manipulations of the balls between the fingers SO much easier!

The balls measure 42mm (1-3/4") in diameter. Each set includes FOUR balls and TWO shells. Each ball weighs 1.5 oz.

No instructions included (these are really for someone who knows what he is buying), but if you need some, let me know and I'll see if I can dig up a generic set.

This set is WHITE.. (See the links below for different color sets.)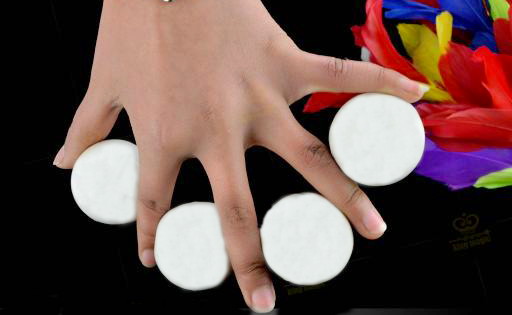 Regular retail price for this set is $29.95. I offer them for...
$19.95
PLEASE NOTE - If you are not ordering for U.S. delivery, you MUST contact me BEFORE ordering to determine shipping options and rates. The flat rate postage fee DOES NOT APPLY to orders shipped OUTSIDE the United States. Simply send me a list of the items you wish to order and I'll get back to you with the shipping options and rates. Once you decide how you'd like the order shipped, I can send a PayPal invoice directly to you (or we can work out other payment arrangements, if necessary). Thank you!
Multiplying Billiard Balls - White - SOLID RUBBER
Product Code: MBBW~SR~MB7
Availability: 2
Related Products
Tags: Multiplying, Billiard, Balls, WHITE, rubber