NEW CARD DICE
Magician shows a fan of five jumbo cards (approximately 4" x 7"). He removes one card and momentarily covers it with a silk. The silk is removed and the card has magically transformed into a jumbo die...the same color as the silk!
This is repeated four more times with four different colored silks, giving the magician five different colored jumbo dice!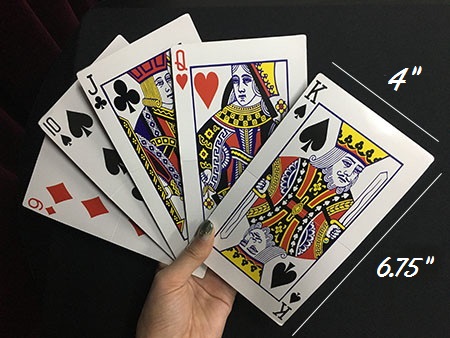 Note - This set includes an instructional DVD and the Jumbo Card Dice ONLY...you'll need to supply your own silks (18" recommended).
Retail is $39.95. Order a set today for only...
$29.95
PLEASE NOTE - If you are not ordering for U.S. delivery, you MUST contact me BEFORE ordering to determine shipping options and rates. The flat rate postage fee DOES NOT APPLY to orders shipped OUTSIDE the United States. Simply send me a list of the items you wish to order and I'll get back to you with the shipping options and rates. Once you decide how you'd like the order shipped, I can send a PayPal invoice directly to you (or we can work out other payment arrangements, if necessary). Thank you!
New Card Dice
Product Code: NCD - MB3
Availability: 1
Tags: card, dice, transformation, magic