Some really clever thinking from Blake Vogt here! Hand your spectator a small black envelope, they open it themselves and take out any one of FOUR options.
That's right... This envelope can covertly conceal FOUR different outs. Depending on which way you start to open the envelope and hand it to your spectator, they get to do the rest. You can also use this envelope as an extremely deceptive switching device for playing cards, pieces of paper and even money. The possibilities are endless!
The Number 4 Envelope measures 3" by 4" and is extremely flat. It is made of Black tyvek which is waterproof and tear-proof so it will last you thousands of performances.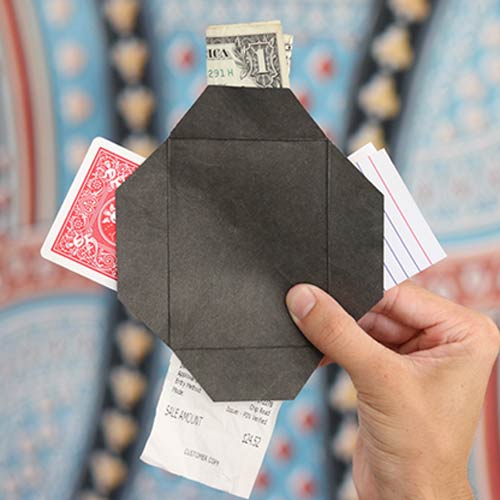 When you purchase this effect, you will receive one hand made gimmicked envelope and a link to an on-line instructional video. On the video, Blake will guide you through step by step how to use this utility device as well as take your through three completely thought out routines that you can do right away. Add this powerful weapon to your arsenal today!
$24.95
PLEASE NOTE - If you are not ordering for U.S. delivery, you MUST contact me BEFORE ordering to determine shipping options and rates. The flat rate postage fee DOES NOT APPLY to orders shipped OUTSIDE the United States. Simply send me a list of the items you wish to order and I'll get back to you with the shipping options and rates. Once you decide how you'd like the order shipped, I can send a PayPal invoice directly to you (or we can work out other payment arrangements, if necessary). Thank you!
Number 4 Envelope - Blake Vogt
Product Code: NFE - MB8
Availability: 1
Tags: number, 4, envelope, vogt, magic, trick, out, mentalism, cards, tricks