The "Ball and Vase" trick is a true classic of magic... it's included in many magic sets and is a perennial best seller over the counter at magic shops around the world. Why? Because it easy to do....it's a fooler... and it's FUN! And now you can own a version in WOOD....just like the originals!
Is it really that easy to do? YES! Like I often say, "If you can hold the prop, you can do the trick!"
Here's the effect, in brief: Open the tall wooden vase to reveal a red wooden ball inside. Remove the ball from inside the vase and place it into your pocket as you put the top back on the vase. Now make a mystical pass or say a magic word. Remove the top from the vase and the ball has magically returned! Put the top back on yet again, make another magical gesture, take the lid off again... and the ball has vanished again! You now remove it from your pocket!

You can repeat this routine indefinitely with
NO
resetting! You may also vary the routine by loading a red silk or a different colored ball (neither is included - you must supply these yourself) into the vase and producing it as a finale' There is a fair amount of "work" available in print on the venerable
Ball & Vase
. Here's your opportunity to own one that you will be proud to own and display, rather than the cheap plastic ones seen so often these days.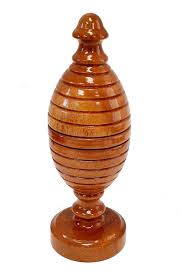 Remember... the basic routine requires NO sleight of hand whatsoever...the clever vase does all of the work for you!
Comes complete with the exotic wood vase (measures 6" high), the ball, and complete instructions.
$24.50
PLEASE NOTE - If you are not ordering for U.S. delivery, you MUST contact me BEFORE ordering to determine shipping options and rates. The flat rate postage fee DOES NOT APPLY to orders shipped OUTSIDE the United States. Simply send me a list of the items you wish to order and I'll get back to you with the shipping options and rates. Once you decide how you'd like the order shipped, I can send a PayPal invoice directly to you (or we can work out other payment arrangements, if necessary). Thank you!
Ball and Vase - Exotic Wood
Product Code: BAVEW - MB8
Availability: 1