Ken Brooke knew how to select commercial magic, and this is one of the most commercial routines ever! It's a short routine with three 15" rings, and it was the opening effect that the late Al Koran used for may years... years when he was one of the highest paid variety artistes in the world!
This is an original set of the now hard-to-find 15" rings in a carrying bag along with the original Ken Brooke manuscript (dated 1967).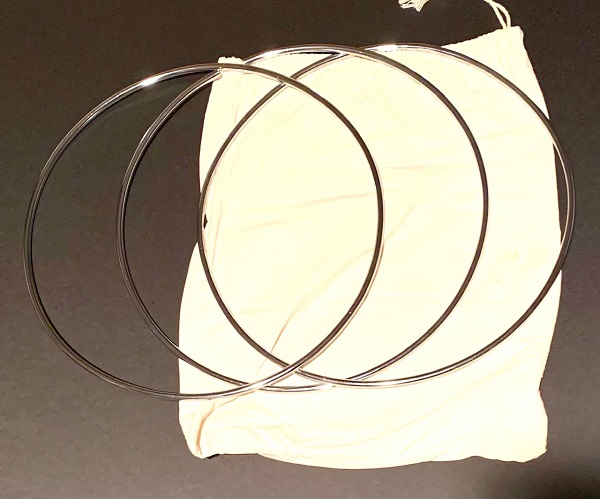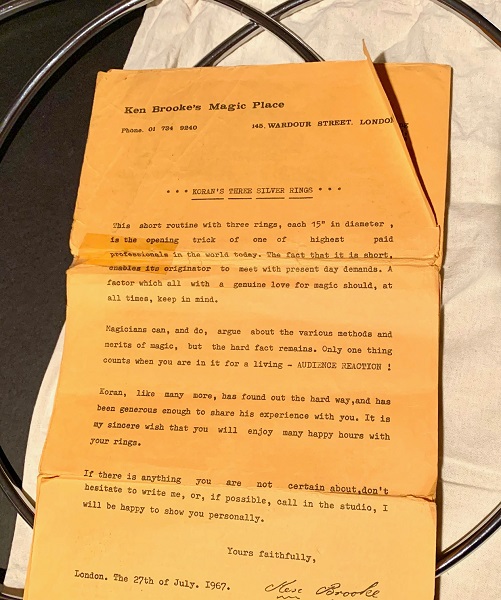 If you know magic, you know the name Ken Brooke....and you know these props and this routine are solid GOLD from a strictly commercial aspect.
Scarce and highly desirable!
NOTE - This is in my Used/Collectable category... I have ONE set only. When it sells, I do not know when or even IF I will ever have another! If you're interested in it, I urge you to snap it up...before your best magic buddy does!

$169.95 - NEW LOWER PRICE -- $149.95

PLEASE NOTE - If you are not ordering for U.S. delivery, you MUST contact me BEFORE ordering to determine shipping options and rates. The flat rate postage fee DOES NOT APPLY to orders shipped OUTSIDE the United States. Simply send me a list of the items you wish to order and I'll get back to you with the shipping options and rates. Once you decide how you'd like the order shipped, I can send a PayPal invoice directly to you (or we can work out other payment arrangements, if necessary). Thank you!
Al Koran's Three Silver Rings - Original Ken Brooke set
Product Code: AKTSR - MBSid
Availability: 1
Related Products
Tags: Koran, Ken Brooke, linking rings, magic, trick, collectible