For those of you performing Zoom shows this is ideal for being performed in front of a camera as well as for a live audience!
This is a time-honored CLASSIC....it fact, it's one of the original "sucker tricks"! And it'll fool EVERYONE!
Three jumbo cards - two red cards and one black card - are shown and placed into an envelope or under a hanky. When the two red cards are removed and put away, only the black card remains. Or does it? When the last card is shown, it has 'FOOLED!" printed on it. The "smart" ones in the audience will tell you to "turn it around!"...they're convinced the black card is on the other side of the "Fooled" card! But after come comedic byplay, you finally DO turn it around, only to reveal another subtle message?: "FOOLED AGAIN!" So where's the missing black card? Inside your coat pocket (or wherever else you want it to be!).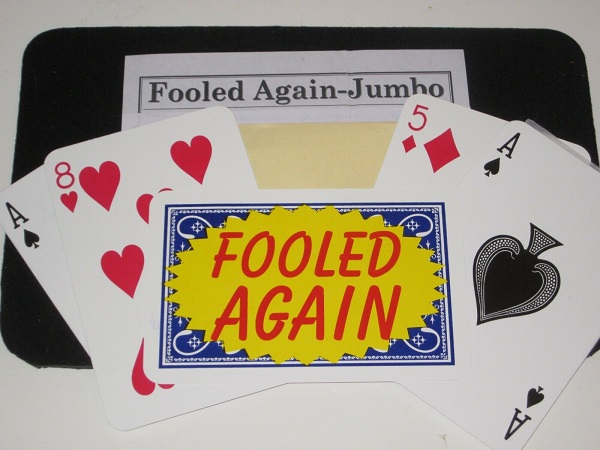 Professionally printed on JUMBO sized card stock for stage presentation. Looks good, works great and gets a great audience response. You will have LOTS of fun performing this, as the whole audience gets involved. It's a great opening trick for any show. Also ideal as an emcee bit and a great trick for clowns and vents. May be easily carried in a jacket pocket.. A LOT of magic and entertainment for ONLY....


$5.95

PLEASE NOTE - If you are not ordering for U.S. delivery, you MUST contact me BEFORE ordering to determine shipping options and rates. The flat rate postage fee DOES NOT APPLY to orders shipped OUTSIDE the United States. Simply send me a list of the items you wish to order and I'll get back to you with the shipping options and rates. Once you decide how you'd like the order shipped, I can send a PayPal invoice directly to you (or we can work out other payment arrangements, if necessary). Thank you!
Fooled - Fooled Again!
Product Code: FFA - MB13
Availability: 4