Cincinnati CAC (Contemporary Arts Center) souvenir postcard. This unique postcard was created to promote the 1977 exhibit, "Selections from the Permanent Collection of the Vent Haven Museum."
This is a wonderful oversized (6" x 8-1/2") card featuring the Jules Vernon "family" of figures. The postcard was printed in a silver finish, making it look as if this is a 19th century tintype photo. It's tough to tell from the photo of it here, but this is a truly striking image that would look simply stunning in a nice frame. Verso of the card tells a bit about the Vent Haven Museum and gives the dates for the CAC exhibit plus performance times for Col. Bill Boley's shows at the CAC as an adjunct to the exhibit.
These cards are scarce... they were printed and distributed 40+ years ago. I just stumbled upon a small stack of them in a lot of vent materials I recently purchased. Don't pass up this opportunity to own one of these gorgeous souvenir cards!
NOTE - The "Gottle O' Geer" watermark is on the website photo only...the actual postcards do NOT have this printed on them.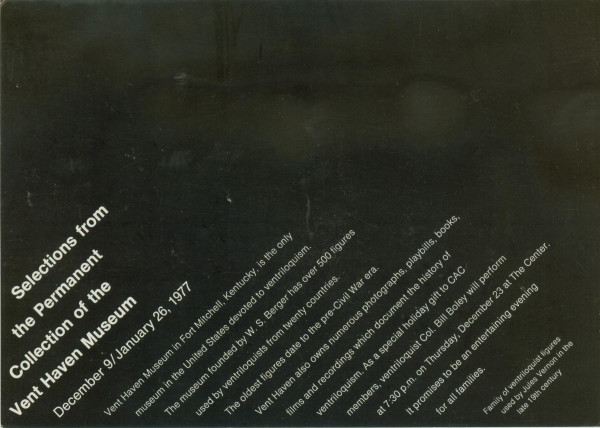 In mint, unused condition, and SCARCE! Will be supplied in an archival mylar sleeve with an acid-free backboard.
$5.00
PLEASE NOTE - If you are not ordering for U.S. delivery, you MUST contact me BEFORE ordering to determine shipping options and rates. The flat rate postage fee DOES NOT APPLY to orders shipped OUTSIDE the United States. Simply send me a list of the items you wish to order and I'll get back to you with the shipping options and rates. Once you decide how you'd like the order shipped, I can send a PayPal invoice directly to you (or we can work out other payment arrangements, if necessary). Thank you!
Postcard - Vent Haven at CAC
Product Code: P-VHACAC - VB15
Availability: 11
Related Products
Tags: ventriloquist, dummy, Vent Haven, CAC, postcard