BACK IN STOCK!!!

NOW in Precision-Machined Aluminum!

When I was "demming" behind the counter at a magic shop, this was one of my favorite demo tricks! It's a fun trick to do and it's a FOOLER! And NOW.... there's MORE to it!

The performer asks for the loan of a quarter and has it marked for later identification. This coin is placed in a handkerchief and handed to the spectator for safe-keeping (or the coin may be vanish via your favorite method). The performer now introduces a small machined aluminum box which he places on the spectator's outstretched hand. The handkerchief is shaken out and it is seen that the coin has vanished! The spectator is now asked to open the aluminum box and when he does, he finds another, smaller, box inside. This is opened to find yet another box inside, and this box is finally opened to reveal still another small aluminum box. When this final box is opened, the spectator discovers his marked coin inside!
Remember, the nested set of boxes is held by the spectator and his MARKED coin is found within the last of the four nested boxes. You NEVER touch the boxes once he has them in his hand! The boxes take a few moments to open, making this a real mystery!
You may remember when Tenyo introduced this type of nested boxes (in plastic) some years ago. Later, several makers re-created the trick in brass. The problem with the brass version was that the brass would eventually tarnish, which would make the boxes nearly impossible to open (not to mention their overall less-than-attractive appearance). You will NOT have that problem with this shiny aluminum version! They will stay shiny and silver and beautiful!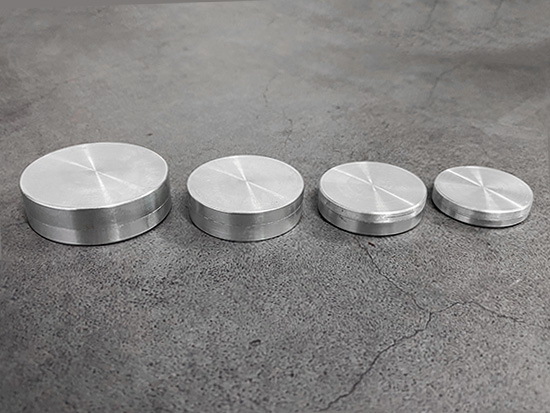 BONUS - This new version of the classic Coin in Nested Boxes also comes with instructions for a really powerful CARD routine! You may perform just the card routine, just the coin routine, or, for a DOUBLE WHAMMY, combine the two routines for a real ONE-TWO PUNCH!
Comes complete with precision-machined aluminum nest of boxes, instant loader, and a link to an on-line tutorial.

The suggested retail price for this outstanding set is $29.95. You can buy it from me for only...

$24.50
PLEASE NOTE - If you are not ordering for U.S. delivery, you MUST contact me BEFORE ordering to determine shipping options and rates. The flat rate postage fee DOES NOT APPLY to orders shipped OUTSIDE the United States. Simply send me a list of the items you wish to order and I'll get back to you with the shipping options and rates. Once you decide how you'd like the order shipped, I can send a PayPal invoice directly to you (or we can work out other payment arrangements, if necessary). Thank you!
Precision Nest of Boxes - Machined Aluminum
Product Code: PNOB - RB17
Availability: 2