This is styled after the original Harold Martin version of the Lippencott Box. A borrowed and marked coin (a ring or borrowed bill may also be used) vanishes only to appear in a small padlocked box all while in full view.
This prop and routine have been referred to as a "
classic
" for good reason... it has stood the test of time, having been performed literally
thousands
of times by
generations
of magicians all over the world. It's a small prop, but packs a
HUGE
punch and and will play for close-up / walk-around groups up to parlor / platform shows.
A spectator marks a borrowed quarter for identification. This is placed within the folds of a handkerchief and held by spectator. Next, a small-padlocked chest (2-1/4" x 2-1/4" x 1-3/4") is shown and placed on the spectator's open palm. A magical pass and the hank is whisked away revealing that the coin has vanished. Attention is drawn to the chest, which has been sitting on top of the spectator's open hand throughout. A small key is given to the spectator, then he himself opens the chest and finds the marked coin inside!
Remember: The chest is in full view before the coin vanishes. The coin found in the chest is the actual marked coin. Will hold up to an Eisenhower or Morgan dollar sized coin, but works best with a US half dollar coin (or smaller). May also be used with most any finger ring, except perhaps a man's large college ring.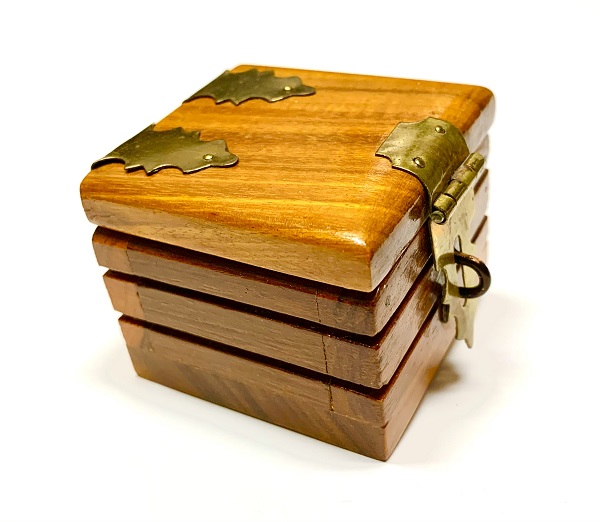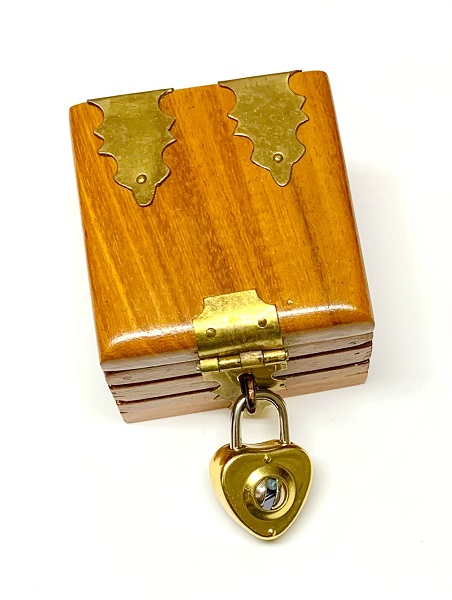 This quality prop is sold complete with the original routine as outlined above, plus Johnny Platt's routine with a Torn & Restored Bill, PLUS Don Alan's fantastic routine with a borrowed, signed bill. I performed my own routine with this prop for many years. I developed it while doing walk-around in restaurants in South Florida. It involved a borrowed finger ring and it was one of my signature pieces... I called it, "Moe's Ring Escape". Perhaps eventually I will write up my own routine with all of the lines and bits of business and offer it along with this outstanding outfit.
Comes with the beautiful box made from exotic teak wood (a lovely honey golden color and heavily varnished), a small brass padlock with keys, and complete instructions with the routines mentioned above. This is a BIG effect for a small price... How can you go wrong?

$19.95

PLEASE NOTE - If you are not ordering for U.S. delivery, you MUST contact me BEFORE ordering to determine shipping options and rates. The flat rate postage fee DOES NOT APPLY to orders shipped OUTSIDE the United States. Simply send me a list of the items you wish to order and I'll get back to you with the shipping options and rates. Once you decide how you'd like the order shipped, I can send a PayPal invoice directly to you (or we can work out other payment arrangements, if necessary). Thank you!
Quarter Go Coin / Ring Appearance Box - Exotic Teak Wood
Product Code: QGB - CC
Availability: 3
Tags: quadra, bill, money, magic, trick, closeup, illusion, mismade