Revolution Box by Alexis De La Fuente & Marchand de Trucs.
The Revolution Box is the most powerful and practical solution to the card-in-box plot to come along in some time! Created by Alexis de la Fuente, it leaves you ready to perform the impossible any time you want.
The box is specially designed to fit in a jacket or pants pocket. Whether you're a hobbyist or a professional magician, the Revolution Box gives you an incredible ending to your favorite card routine as well as leaving your spectators with a souvenir that they'll never forget. Small, examinable, and with a revolutionary finish by handing everything out for examination!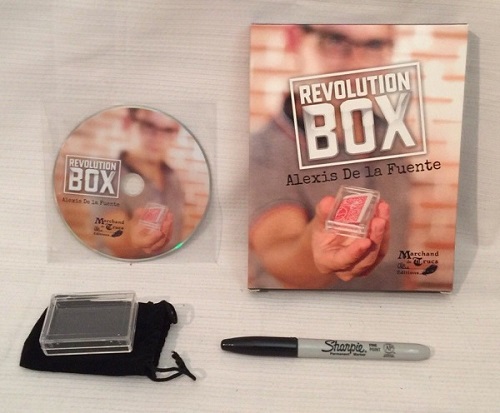 The Revolution Box itself measures 2-3/32" x 1-3/8" x 3/8". Here's what you get: The Revolution Box box - the gimmick - a special Sharpie - a velvet carrying bag - instructional DVD (in English and French).
Retail is $34.95. Own it today for only...
$27.95
PLEASE NOTE - If you are not ordering for U.S. delivery, you MUST contact me BEFORE ordering to determine shipping options and rates. The flat rate postage fee DOES NOT APPLY to orders shipped OUTSIDE the United States. Simply send me a list of the items you wish to order and I'll get back to you with the shipping options and rates. Once you decide how you'd like the order shipped, I can send a PayPal invoice directly to you (or we can work out other payment arrangements, if necessary). Thank you!
Revolution Box
Product Code: RB - MB3
Availability: 1
Related Products