FINALLY BACK IN STOCK!

The beauty of a card slowly and elegantly rising out of a deck has always been a magician's dream. A plot like this doesn't become a time-honored classic by chance. It does so because its simplicity and strong magical content make it beautiful.
I have collected rising card decks for years. I have more than 30 in my personal collection... electronic, clockwork, rubber-band powered, weighted, thread operated, invisible thread operated, piano wire, and pretty much everything else in between. You know how it is when you start "researching" an effect to go into your own working show. Very often, our "research" simply gets out of hand. But the upside is, you end up with a really cool collection of stuff, some of which is quite obscure! Anyway...all of that to say, I've tried just about every type of Rising Card outfit out there. I used an Anverdi outfit for quite a long time. I liked its minimalist "look". And that's why I like THIS new version...
In my opinion, if you're going to go for a parlor/platform/cabaret or stage presentation, you'll do no better than THIS remote control electronic outfit.
This really is the ultimate. Operated by remote control, one by one all selected cards will go up slowly (or even stop during their rise) at your command. The small transmitter can be hidden in your pocket, but you also receive a toe switch, and I HIGHLY recommend using it, making the entire operation of the effect truly hands-free.
A jumbo deck is brought out into the audience (or spectators are asked on stage) and several cards are selected. The deck is mixed and then placed into a beautiful lucite houlette. Now, one by on, each spectator's selection eerily rises from the deck. If you like to add a bit of comedy in your presentation, you can have the first card come up blank ("When I asked you to clear your mind, I didn't think you'd take me literally!"), etc. You can also use the Billy McComb gag with a card rising out of the deck that has a photo of a scantily-clad young lady on it ("When I said to 'clear your mind', I should've said to 'CLEAN your mind'!"). The possibilities with this classic effect are almost limitless. Comedy, drama, you name it. Customize cards (easy to do with home printers now) for birthday shows, anniversaries, product launches, tradeshows, etc. As I said....the possibilities are almost LIMITLESS.

I've been using my own one of these for more than two years now. It has worked flawlessly. Never a problem, due to the latest version of the R/C circuitry. I depend upon it. You can, too.

Important points to remember:
1) Cards may be stopped "mid-rise" if you desire.
2) The Jumbo Deck may be fanned and mixed (a Hindu shuffle works great here, if your hands are large enough).
3) The lucite houlette is elegant, yet unobtrusive.
4) You do not have to be near the deck for it to work...you may stand across the stage or out in the audience.
5) Small enough to pack easily - large enough to be seen on stage (jumbo deck measures approximately 4-1/3" wide X 6-5/8" high.
6) No need to hide a remote in your hand....use of the toe switch means true "hands-free" operation.

If you are a professional, this Jumbo Rising Card outfit will certainly enhance your act. If you are a collector, it is also a must for you. This outfit gets MY HIGHEST RECOMMENDATION.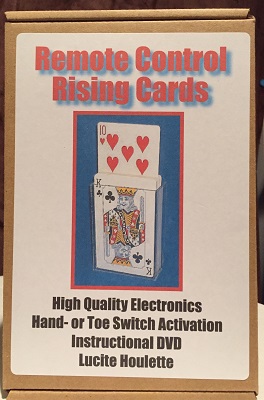 Complete outfit includes: Professionally-crafted deck with self-contained electronics. Remote. Toe-switch. Elastic band (for toe-switch). Lucite houlette. Instructional DVD. I'll also include brief instructions on how to I customize cards for specific shows. (Batteries not included - uses A23 batteries available at most hardware stores, , etc.)

Suggested retail on this outfit is $199.95 (and most dealers sell it for more...in some cases, much, MUCH more!).
At $199.95, it's a GREAT deal...this is a GUARANTEED feature effect for virtually ANY show. BUT....I have a special price on these....
$139.95
PLEASE NOTE - If you are not ordering for U.S. delivery, you MUST contact me BEFORE ordering to determine shipping options and rates. The flat rate postage fee DOES NOT APPLY to orders shipped OUTSIDE the United States. Simply send me a list of the items you wish to order and I'll get back to you with the shipping options and rates. Once you decide how you'd like the order shipped, I can send a PayPal invoice directly to you (or we can work out other payment arrangements, if necessary). Thank you!
Rising Cards - JUMBO - Electronic Remote Control
Product Code: RCERC - MB5
Availability: 1
Related Products
Tags: Jumbo, Rising, Cards, Electronic, Remote, Control, magic, trick, illusion