BRAND NEW!!!
The world's first examinable Magnetic Scotch and Soda has finally arrived!!
This is a classic, practical coin magic outfit that enables you to perform literally dozens of routines! It is an indispensable classic coin set for coin magic lovers.
Scotch and Soda as a trick has been around for more than 50 years, with at least 50 different routines for it in existence! It is rare that a single prop has so many routines. Scotch and Soda coin sets have traditionally been available in two different types: pressure fit (needing a bang ring to re-set) and magnetic (which you could simply shake apart in your hands). Each type had its own advantages and disadvantages. After the performance of the pressure-fit type, the audience can examine the coins, but the gimmick cannot be re-set easily. The magnetic type has more routines and is easier to reset, but the disadvantage is that it cannot be fully examined by the audience, because the double-sided coin will rotate once the coin is pressed and pushed by hand. It cannot be completely locked by magnetism, so it cannot be handed over to the audience.
Based on the characteristics of the above two types of Scotch and Soda sets, the brilliant Jimmy Fan has re-designed and improved the prop! After half a year of development and testing, ridges were added to avoid the rotation of the double-sided magnetic coin. In this way, this magnetic Scotch and Soda is finally examinable after the performance! And with the new type of magnets used, you'll need a special magnet to "unlock" the set!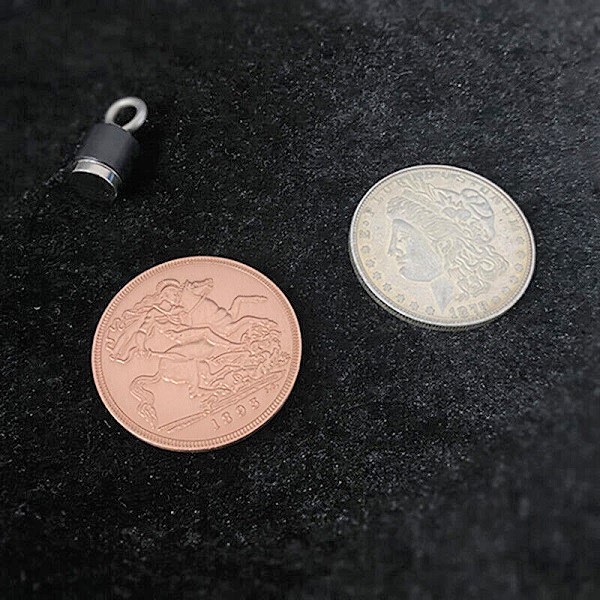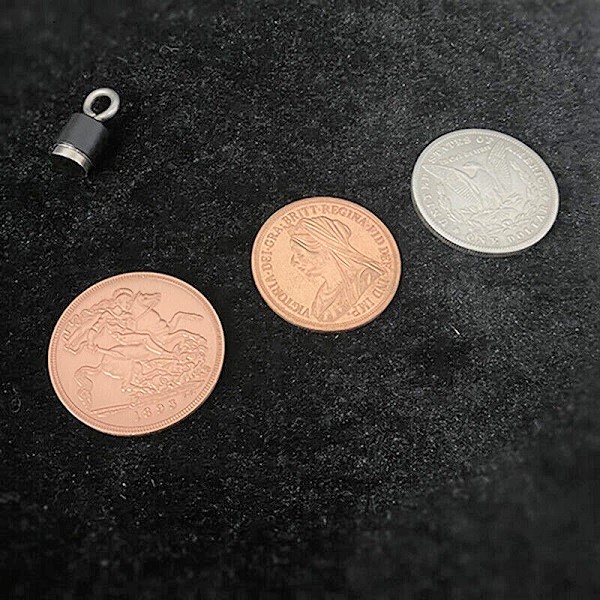 The demo video below uses a Walking Liberty half dollar set, but the EFFECTS are EXACTLY the same. The video below has several classic routines for you to enjoy. When you perform these routines, you will not need sleight of hand to switch out the gaffed coin! All the coins may be handed immediately to the audience for complete examination!
The Locking Magnetic Morgan Dollar SCOTCH & SODA Coin Set is supplied complete with: 1. A special Morgan Dollar shell -- 2. A special double-sided coin (British Victoria large Penny coin/Morgan Dollar) -- 3. A copper replica British Victoria large Penny coin -- 4. A strong "re-set tool" magnet -- 5. Velveteen Carrying Bag -- 6. Detailed online video tutorial instruction.
Manufacturer's suggested retail price is $49.95. Buy it from me for only...
$39.95
PLEASE NOTE - If you are not ordering for U.S. delivery, you MUST contact me BEFORE ordering to determine shipping options and rates. The flat rate postage fee DOES NOT APPLY to orders shipped OUTSIDE the United States. Simply send me a list of the items you wish to order and I'll get back to you with the shipping options and rates. Once you decide how you'd like the order shipped, I can send a PayPal invoice directly to you (or we can work out other payment arrangements, if necessary). Thank you!
Scotch and Soda - Magnetic Locking Morgan Dollar Coin Set
Product Code: SASMLMDS - RB4
Availability: 2
Tags: Scotch, Soda, Morgan, magnetic, Victoria, penny, magic, trick, coin, illusion