I absolutely LOVE this! From our friends Dominique and Alexandra Duvivier at Mayette Magic Moderne (one of the oldest magic shops in the world!) comes this delightfully "old world" routine. This "silk cone" prop was a standard part of every magicians act a hundred years ago, but no one uses them today. I don't understand why not...it's SO deceptive and appears SO innocent! Yet it conceals a clever secret making possible some DIABOLICAL magic!

The magician freely displays shows three lengths of ribbon, each sewn into separate loops (rings). One red, one blue, and one yellow. Next, he shows a piece of heavy cartridge paper and forms it into a cone shape (used with care, this cone will last a lifetime). He puts the ribbons into the cone one by one, leaving the last one hanging out just a bit. A magical wave of the wand, and now the magician pulls the protruding ribbon back out of the cone, showing that the three ribbon-rings are now mysteriously linked together!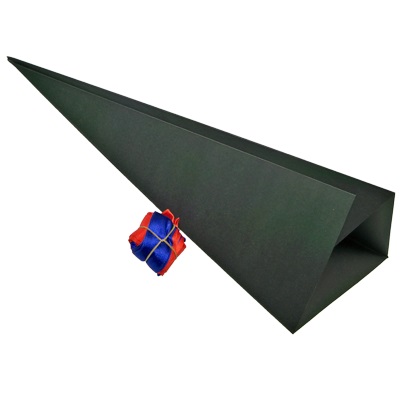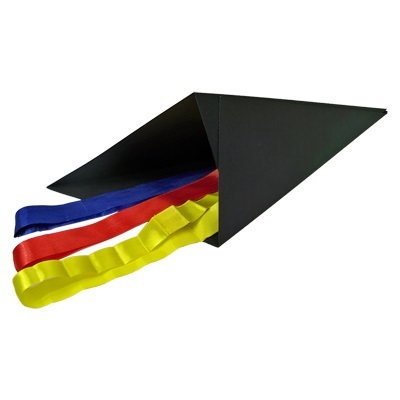 This is a wonderful routine, and oh, so easy to do. It may be used to illustrate many different concepts, ideas, principles, etc. Of course, the cone may also be used for many other routines...a Blendo, 20th century silks, etc. Once you understand the construction of the cone, you can also make your own for specific uses... perhaps one that unfolds to reveal a birthday child's name. Or a product name. Or a special message. Again, the sky is the limit here when using your creativity.
Supplied complete with the heavy cartridge paper cone, the silk ribbons, and complete instructions. This outfit has been discontinued in the U.S. The one I have available. is brand new and unused, but I've placed it into my "Used/Collectable" category as it's no longer available. When this one sells, I do not know when or even if I will ever be able to get more. If you're interested in it, please don't hesitate!

The suggested retail price of this complete outfit is $32.95. But you can get it from me for much less!

$19.95 - NEW LOWER PRICE - $17.95
PLEASE NOTE - If you are not ordering for U.S. delivery, you MUST contact me BEFORE ordering to determine shipping options and rates. The flat rate postage fee DOES NOT APPLY to orders shipped OUTSIDE the United States. Simply send me a list of the items you wish to order and I'll get back to you with the shipping options and rates. Once you decide how you'd like the order shipped, I can send a PayPal invoice directly to you (or we can work out other payment arrangements, if necessary). Thank you!
Silent Linking Rings - Mayette Magie Moderne (France)
Product Code: SLR- MBSid
Availability: 1