This is a 6.5" wide by 16,5 FOOT long pure Chinese silk streamer.
The streamer consists of eight different colors, each blending into the next. This is 100% pure Chinese high quality silk!

This is the perfect production item for just about any magical prop. You can produce it from a Change Bag, a Tote Bag, Dove Pan, Square Circle, etc. There are SO many possibilities!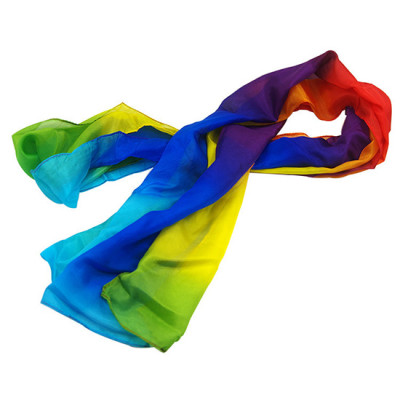 This highly compressible pure silk streamer is a bargain! As a matter of fact, at this bargain price, you can buy several and either produce them separately or stitch them together to make a truly EPIC silk streamer!

$19.95
PLEASE NOTE - If you are not ordering for U.S. delivery, you MUST contact me BEFORE ordering to determine shipping options and rates. The flat rate postage fee DOES NOT APPLY to orders shipped OUTSIDE the United States. Simply send me a list of the items you wish to order and I'll get back to you with the shipping options and rates. Once you decide how you'd like the order shipped, I can send a PayPal invoice directly to you (or we can work out other payment arrangements, if necessary). Thank you!
Silk Streamer - 6.5" x 16.5'
Product Code: SS~C - MB13
Availability: 1
Related Products