Here's a wonderfully versatile new item for all coin workers! It's a
"spirit'
of a coin, made from a crystal clear polymer. This is the type coin that was sold with Dr. Zola's
"Silver Extraction"
trick many, many years ago.
Included is a link to an on-line video tutorial that teaches many clever ideas and uses for this beautiful new prop.
Watch the demo:
Extremely well-made. The special coin is supplied along with the link to the video tutorial.
BONUS - Many years ago, I featured a trick in my lecture called "Painless Extraction". It was a really cool and really easy way of doing "Silver Extraction"...but without a SWITCH! I liked the trick so much, it was the very FIRST trick in my book, "Funny Stuff....and Assorted Mysteries" (1992). I've created a new set of instructions for "Painless Extraction" and will also include them with the Spirit Coin.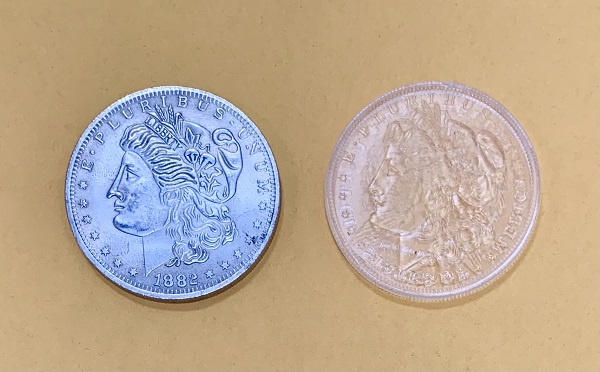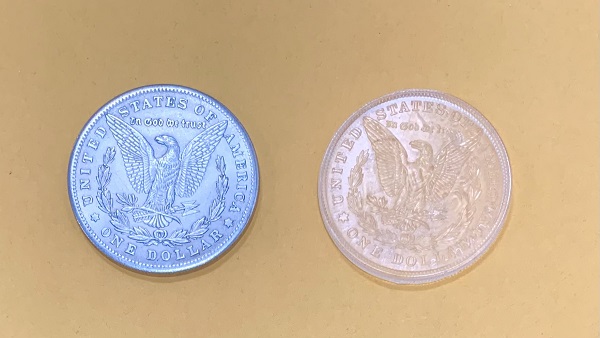 Also available in a Kennedy Half Dollar version.


$17.95
PLEASE NOTE - If you are not ordering for U.S. delivery, you MUST contact me BEFORE ordering to determine shipping options and rates. The flat rate postage fee DOES NOT APPLY to orders shipped OUTSIDE the United States. Simply send me a list of the items you wish to order and I'll get back to you with the shipping options and rates. Once you decide how you'd like the order shipped, I can send a PayPal invoice directly to you (or we can work out other payment arrangements, if necessary). Thank you!
Spirit Coin - Morgan Dollar
Product Code: SC~MD - CT1
Availability: 7
Related Products
Tags: coin, trick, magic, spirit, transparent, clear coin