Imagine your spectator's thoughts, her face only inches away, as she sees you place two coins - a dime and penny - into your left hand. She watches your hands closely, making certain there's nothing tricky going on... but there are no tricky moves! You ask her to pick one of the coins. She picks... You pause for just a moment before opening your hand to reveal that coin. She's amazed... but, you're not done. You open your other hand to reveal that in an act of pure magic, the remaining coin has left it's partner's side and traveled a horizontal distance of over a foot (only inches from your spectator's face) without being detected. The coin now sits innocently in your opened hand... and both coins are ready to be fully examined.
Here are just a FEW of the wonderful tricks you can perform with this amazing coin set:
And for those of you who have asked....No, those aren't my hands in the video! That's phenomenal magician Jimmy Fan!

The Dime and Penny's big brother - Scotch and Soda - is the best selling coin trick of all time. And just like its big brother, this coin set is capable of SO many different routines!
This is a lovely coin trick that is oh, so easy to do! In fact, even someone who has NEVER performed a coin trick will learn this one in only moments! The specially-machined coins do ALL of the work for you! It's a CLASSIC coin trick with NO sleight of hand whatsoever involved, yet it's one of the most baffling coin routines you can show a spectator!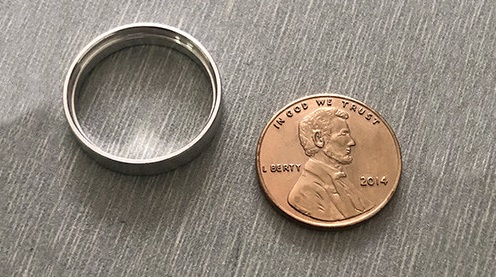 You'll receive the specially-machined coins, bang ring, and complete instructions. And once you receive it, you'll be doing it in moments! This is a BARGAIN at only...

$7.95

PLEASE NOTE - If you are not ordering for U.S. delivery, you MUST contact me BEFORE ordering to determine shipping options and rates. The flat rate postage fee DOES NOT APPLY to orders shipped OUTSIDE the United States. Simply send me a list of the items you wish to order and I'll get back to you with the shipping options and rates. Once you decide how you'd like the order shipped, I can send a PayPal invoice directly to you (or we can work out other payment arrangements, if necessary). Thank you!
The Famous Dime and Penny Trick
Product Code: TFDAPT - RB2
Availability: 1
Tags: penny, dime, trick, coins, magic, trick, tricks, transposition