Four words characterize this product: Okito, Boston, Block, Duvivier.
Okito: The Okito Box is one of the great classics of magic coins. With the Duvivier Coin Box you can perform all the routines of the traditional Okito Box: Travel and transpositions, crossing the box or hand, etc.
Boston: The Boston Box is the box cleverly-gaffed complementary box to the Okito Box. It can perform the same types of effects with the basic box, but with a little extra that makes your performance even clearer and more inexplicable.
Block: is the icing on the cake of box routines. The block can finish the routine on a breathtaking climax: the box becomes a solid block, which shows the impossibility of what the public sees!
Duvivier: The Duvivier Coin Box is a revolution in coin box magic because it merges the above three principles into one single box. Yes, you read that right, THREE BOXES: Okito, Boston, Block, all available in a SINGLE box....with NO SWITCHING! And the best part? Everything is given for examination before, during and after!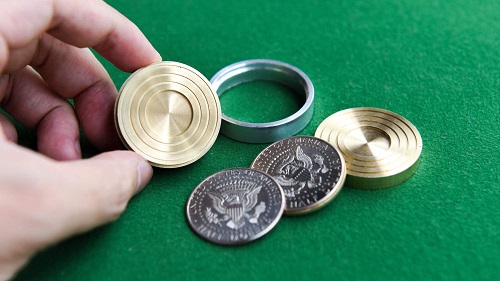 Explanations are provided on a DVD full of details. Several routines are explained, some quite accessible to any beginner, others require a little practice, but without any undue difficulty. The precision-machining of this amazing box will both amaze you and delight you!

This Duvivier Box (U.S. Half Dollar size) came in a lot of new magic from a closed magic shop. It is not in the original packaging, but is complete with the box (and gimmicks), carrying bag and instructional DVD.

As with most items in the "Used/Collectable" category, I have ONE only. If you are interested in it, please do not hesitate...I do not know when or even if I will ever have another!

Suggested retail price is $110.00. I'm offering this new "unboxed" one for only:
$59.95
PLEASE NOTE - If you are not ordering for U.S. delivery, you MUST contact me BEFORE ordering to determine shipping options and rates. The flat rate postage fee DOES NOT APPLY to orders shipped OUTSIDE the United States. Simply send me a list of the items you wish to order and I'll get back to you with the shipping options and rates. Once you decide how you'd like the order shipped, I can send a PayPal invoice directly to you (or we can work out other payment arrangements, if necessary). Thank you!
Duvivier Coin Box
Product Code: DCB - RB22
Availability: 1