BACK IN STOCK!
It's been a long time since I've been this excited about a coin set! But maybe it's because it's such a revolutionary set! Yeah...that's it! Or maybe it's because of the really cool gimmicks! Maybe that's it! Or could it be because of the endless possibilities you'll discover when playing with this set? Yeah...that could be it.... or maybe it's ALL of the above!
One of the more popular gimmicked coins lately is the "Triple Split", which itself is an offshoot of the "Split Coin" (AKA, "Clone Coin", "Coin Thru Necktie", etc.). This amazing new set utilizes BOTH of these gimmicks! Yes, you'll get a triple split Chinese coin, PLUS a split Chinese coin, PLUS a regular matching coin. All of the coins match. But the genius is, some of the coins have different-colored faces! So you can not only do appearances, vanishes, and transpositions...but NOW you can perform baffling COLOR CHANGES, as well! And it's all SO easy, due to the precision-machining of these beautiful coin gimmicks.
Take a look at just a sample routine:
You'll carry these with you and play with them CONSTANTLY, coming up with your own clever routines! But there's already GREAT material out there, too! Ever wanted to do 3Fly but gave up in frustration due to the difficulty of the sleights? This set makes it SO simple you'll be doing it in virtually NO time! And it's looks just so magical! Whether it's appearances, vanishes, transpositions, color changes, penetrations, or whatever...THIS set is the honest-to-goodnesss "do-it-all" utility set!
Each Asian Dream Coin Set comes complete with the triple split gimmick, the split gimmick, a regular matching coin, replacement "faces", and a link to an on-line tutorial. The tutorial will get you familiar with basic handling, plus teach you the routine shown in the basic demo video, plus teach you how to change or replace the "faces" on the coins.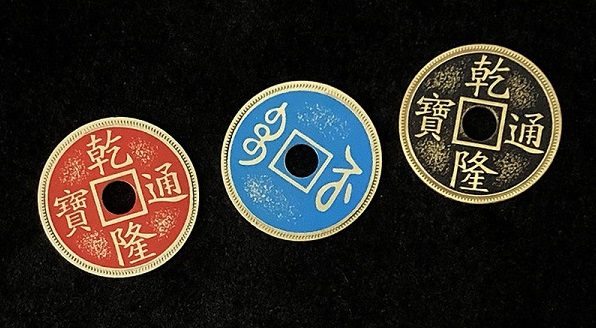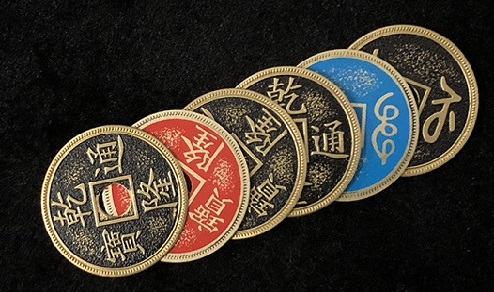 If I'd been told this set was $89.95, I wouldn't have been surprised. In fact, I would have thought it was a bargain! After all, just consider what triple split and split coins alone sell for...and that's without the color change option! But I think you'll agree with me that this price is a BARGAIN! I don't know how long I'll be able to keep these in stock.... If you're interested, ACT NOW!

$54.95

PLEASE NOTE - If you are not ordering for U.S. delivery, you MUST contact me BEFORE ordering to determine shipping options and rates. The flat rate postage fee DOES NOT APPLY to orders shipped OUTSIDE the United States. Simply send me a list of the items you wish to order and I'll get back to you with the shipping options and rates. Once you decide how you'd like the order shipped, I can send a PayPal invoice directly to you (or we can work out other payment arrangements, if necessary). Thank you!
Asian Dream Coin Set - WOW!
Product Code: ADCS - RB32
Availability: 4
Related Products