This is the item that got Bergie into trouble with the Secret Service! Seems they had a slight problem with Charlie having his own coin, thus many of these never got into "circulation".
This is a cute item... it's a Charlie McCarthy and Mortimer Snerd 75 cent coin/Good Luck piece! The front of the coin has a portrait of Charlie with his name across the top and "75c" off to one side. Underneath Charlie reads, "With this coin goes good luck". On the back of the coin is Mortimer Snerd's portrait with his name across the top. Underneath Mort reads, "Yup – That's the way it goes".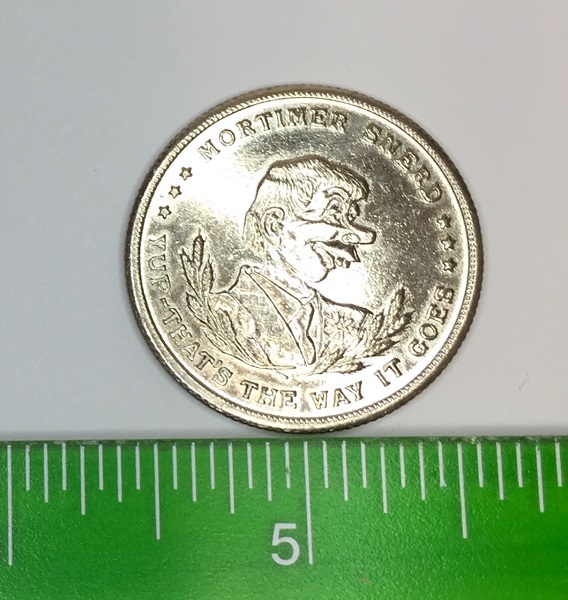 These coins are highly prized by both Bergen/McCarthy collectors and token collectors. I almost always have one or two in stock. I've seen these sell on eBay in the $100.00 range. Order one from me for only...
$25.00
PLEASE NOTE - If you are not ordering for U.S. delivery, you MUST contact me BEFORE ordering to determine shipping options and rates. The flat rate postage fee DOES NOT APPLY to orders shipped OUTSIDE the United States. Simply send me a list of the items you wish to order and I'll get back to you with the shipping options and rates. Once you decide how you'd like the order shipped, I can send a PayPal invoice directly to you (or we can work out other payment arrangements, if necessary). Thank you!

Charlie McCarthy / Mortimer Snerd Good Luck Coin
Product Code: CMMSGLC - DD
Availability: 4
Related Products
Tags: Charlie McCarthy, Mortimer Snerd, coin, luck