Here's an unusual item. This is Charlie himself, cast in SOAP! A wonderful piece that's in the 75-80 year old age range!

I don't imagine a whole lot of these survived...surely most kids who got them in the late 1930's and early 1940's USED them! Or at least had their mouths occasionally washed out with them!
Charlie is actually in pretty good shape, considering his age. This is no doubt due to the fact that he's still in his original box! I seem to find the soaps from time to time, but rarely the box...and the box itself is in really nice condition! The cello window is torn at the top and right across the middle. but this is very easily replaced with a new piece of cell you can cut to fit. Once you do this minor repair, you'll have a gorgeous display piece!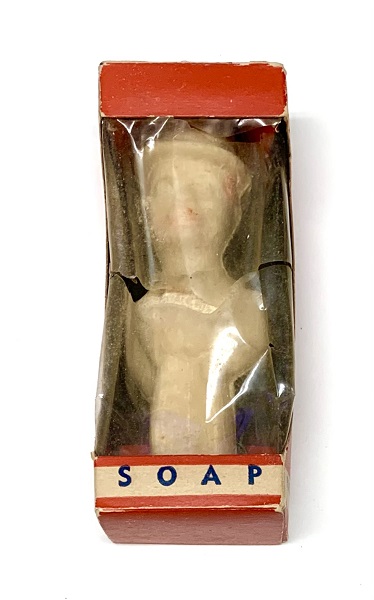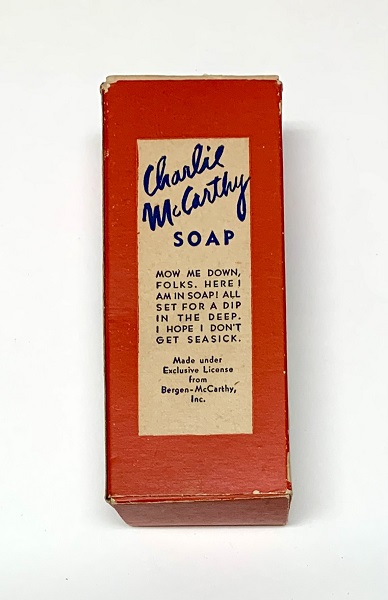 Charlie - in his original display box - is ready to join your collection!

$25.00
PLEASE NOTE - If you are not ordering for U.S. delivery, you MUST contact me BEFORE ordering to determine shipping options and rates. The flat rate postage fee DOES NOT APPLY to orders shipped OUTSIDE the United States. Simply send me a list of the items you wish to order and I'll get back to you with the shipping options and rates. Once you decide how you'd like the order shipped, I can send a PayPal invoice directly to you (or we can work out other payment arrangements, if necessary). Thank you!

Charlie McCarthy Soap in Original Box
Product Code: CMS~B - VB7
Availability: 1
Related Products
Tags: Charlie McCarthy, soap, Bergen, toy, display, box, original