NEW!
These lovely Chinese coins feature a truly beautiful design carried out in exquisite detail. The manufacturer of these special Chinese coins has spared no expense to create the ultimate dream Chinese coin specifically for magicians.
Here's a special "basic" package set of these wonderful coins (check the website listings for sets with additional gaffed coins). This coin set is in DOLLAR size.
Set includes:
FOUR Chinese Luohanqian dollar-sized coins.
ONE matching expanded shell.
LINK to an online video tutorial teaching a wonderful (and easy!) Coins Across routine and an easy Shadow Coins-type of routine.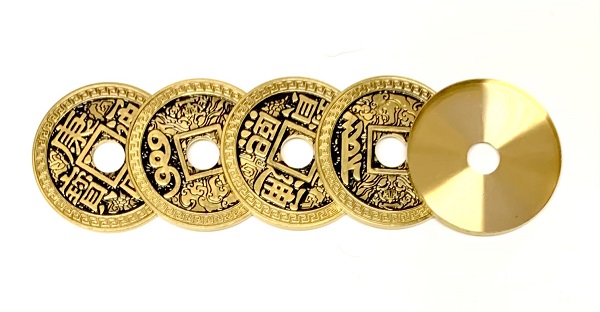 If purchased separately, the retail value of this entire set of coins is $39.80. Buy it as a package deal for only...
$34.50

(NOTE -- This set of Luohanqian Chinese coins is also available in half dollar size. See separate listing elsewhere on this site)
PLEASE NOTE - If you are not ordering for U.S. delivery, you MUST contact me BEFORE ordering to determine shipping options and rates. The flat rate postage fee DOES NOT APPLY to orders shipped OUTSIDE the United States. Simply send me a list of the items you wish to order and I'll get back to you with the shipping options and rates. Once you decide how you'd like the order shipped, I can send a PayPal invoice directly to you (or we can work out other payment arrangements, if necessary). Thank you!
Chinese Luohanqian Coin - Dollar Size Set
Product Code: CLDS - RB31
Availability: 5
Related Products
Tags: Chinese, Luohanqian, Coin, Dollar, set