The Chop Cup is a variation of the venerable classic Cups and Balls effect, but as it uses just one cup and one ball, it's easier for most audiences to follow! It's also much easier for YOU to learn!
With the Chop Cup, the ball may be made to magically jump from the magician's hand to his pocket and back again, and SO much more....all without sleight of hand! Yes, the CUP does the work for you! A great finale' for the routine is the production of a large piece of fruit (or two!) from under the cup! The possibilities for routines are virtually unlimited!
This latest Chop Cup was specially designed for optimum balance, handling, and appearance. It is a part of the Prestige series of cups and balls for workers. They are very reminiscent of the lauded Paul Fox cup design, which makes a large load ball look like it's actually too big to fit into the cup! This cup will easily hold a regulation tennis ball as its final load.
This brass cup matches our Prestige series Brass Cup and Balls, so you can make your own combo set by ordering both the cup set and this Chop Cup.

The Chop Cup has made the reputations of many, including Al Wheatley (who created the original Chop Cup), Don Alan, Ken Brooke, and Paul Daniels (though truth be told, I never personally cared for Paul's routine...too much confusion. You know what Vernon said about confusion). It can make your reputation, too!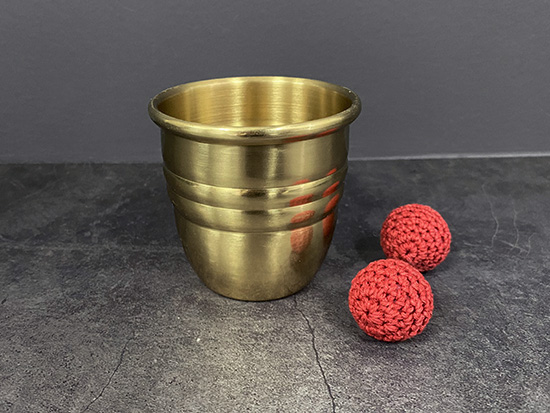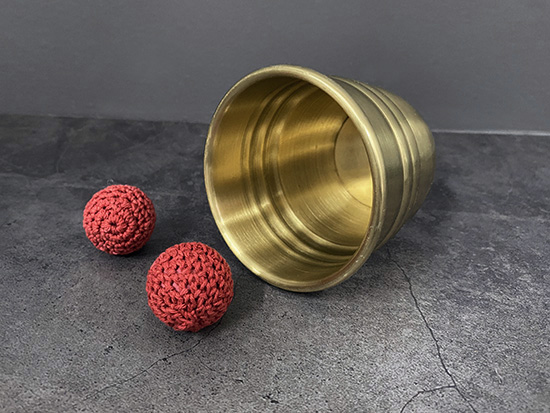 Here's what you'll get: Prestige series Brass Chop Cup, two 1" crocheted balls, cloth carry bag (which can also act as your performing surface), and printed instructions. The Chop Cup itself is 3" tall, with a 3" mouth diameter.
This is truly a fantastic prop and a fantastic value at only...
$29.95
PLEASE NOTE - If you are not ordering for U.S. delivery, you MUST contact me BEFORE ordering to determine shipping options and rates. The flat rate postage fee DOES NOT APPLY to orders shipped OUTSIDE the United States. Simply send me a list of the items you wish to order and I'll get back to you with the shipping options and rates. Once you decide how you'd like the order shipped, I can send a PayPal invoice directly to you (or we can work out other payment arrangements, if necessary). Thank you!
Chop Cup - Prestige Series - Brass
Product Code: CC~PS~B - MB8
Availability: 2
Related Products