They're FINALLY here! I've been waiting on this set for MONTHS now, and I'm extremely pleased to say, THEY DO NOT DISAPPOINT! This is the highly anticipated "Midi Combo Set", also known as the "Medium Cups" from Asian close-up superstar Jimmy Fan!

The Cups & Balls is what defines the word "classic" in our specialized community. A good performance of the Cups and Balls includes all of the magical "musts": appearances... vanishes... penetrations.... transpositions... etc.
If you're a long time cup worker, this incredible new set of Cups and Balls will get you excited about this classic all over again! If you've never performed a C&B routine before but wanted to, THIS is the set to get!
This is a "midi" - sized set... smaller than most, but larger than a true miniature set. But don't let it's small size fool you (unless you want it to!). This set is PACKED with features that many of the larger (and more expensive) sets WISH they could have! The cups are not spun or formed...they are CNC computer-machined from a solid block of H62 brass. H62 brass has a higher copper content than most of the brass used in magical manufacture (which is mostly H59 brass). It is more expensive, but is of much higher quality. Because they are computer machined, each cup is EXACTLY like the other. There are no variations in the center bead, which mean that when you stack these together, they do NOT wobble. The cups are, in a word, PERFECT.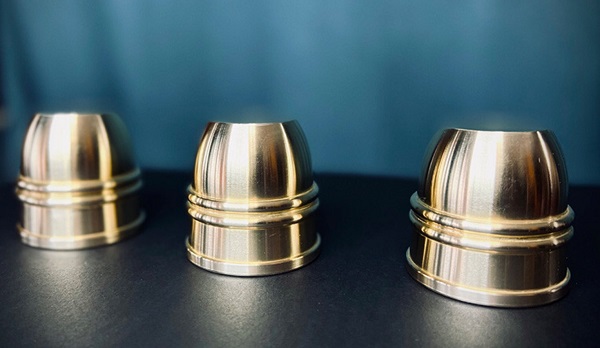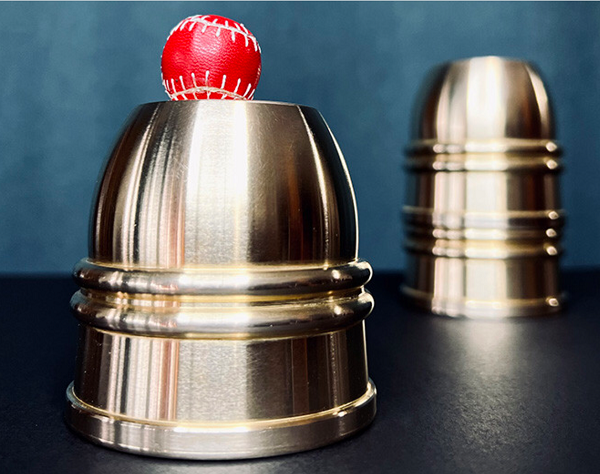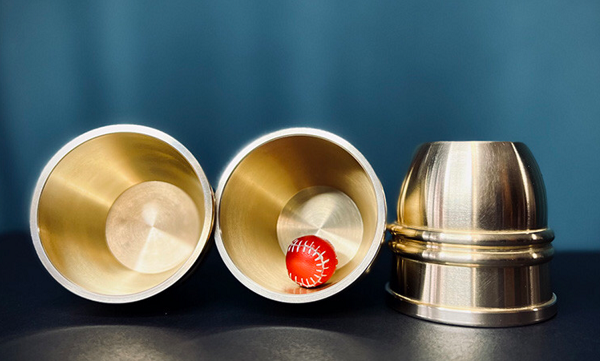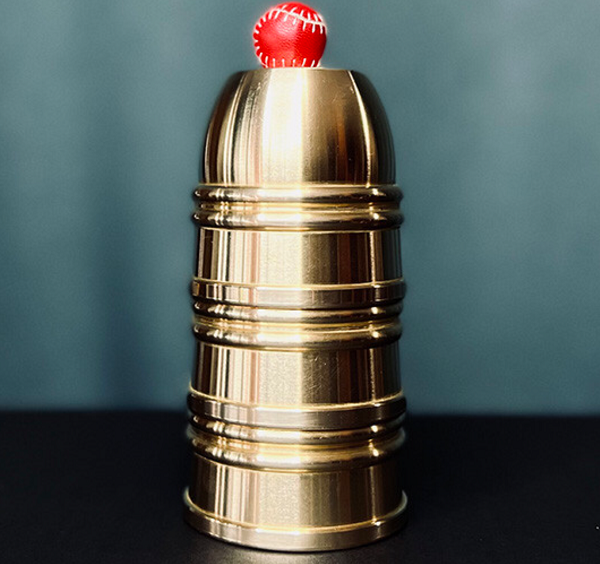 Each set includes three cups CNC machined from the high quality H62 Brass, with one of the cups being gaffed as a CHOP CUP! Yes, this is a COMBO set!
The cups are small, but HEAVY...they feel INCREDIBLE in the hands! Each cup weighs in at approximately 8.5 ounces. That's half a pound PER CUP, despite their diminutive size! Each cup measures 2.6" in diameter (at the mouth), and stand 2.56" tall.

A set of FIVE high-quality leather baseballs is included, one of which is gaffed for the Chop Cup routine. The smaller size of this wonderful cup set makes the cups much easier to handle... especially for those of you with smaller hands. Most of you will be able to hold the rim of a cup between your thumb and middle finger, and spin the cup without the saddle of the cup getting caught in the crotch of your thumb.
Folks, these cups ring like BELLS when the rims are struck together. They are a thing of beauty.

This new set gets my very highest recommendation. Remember... You get the three perfectly matched CNC-machined brass cups (one of which is a Chop Cup), four ungaffed leather baseballs, one gaffed leather baseball (for the Chop Cup), a velveteen carrying bag, and a link to an on-line video tutorial.

This set does not include a wand, but check out our Pro Convertible Wand (see the link below). Want to buy both a cup set and the pro convertible wand at the same time? If you do, you'll get the wand for HALF PRICE! (See link below for the Cups and Wand COMBO deal).
If this set sold for $300.00, it would be worth every penny of it... and it would also be the same price as many cup sets already out there that don't have nearly the versatility of this set! But it's not $300.... it's not $250..... it's not even $200! It's only $124.95.... and that's a STEAL!

$124.95

PLEASE NOTE - If you are not ordering for U.S. delivery, you MUST contact me BEFORE ordering to determine shipping options and rates. The flat rate postage fee DOES NOT APPLY to orders shipped OUTSIDE the United States. Simply send me a list of the items you wish to order and I'll get back to you with the shipping options and rates. Once you decide how you'd like the order shipped, I can send a PayPal invoice directly to you (or we can work out other payment arrangements, if necessary). Thank you!
Cups & Balls - MIDI Combo Set
Product Code: CAB~MCS - MB19
Availability: 1
Related Products