This beautiful coin effect is one of the most popular coin tricks out there and is certainly one of my most popular items at conventions. And this latest version with the "antiqued" Chinese Palace coins is really a gorgeous coin outfit!

The effect is clear cut: A silver Walking Liberty half dollar (replica) is placed in one hand while the other hand holds a brass "antique" Chinese Palace coin and a copper Mexican 20 centavo coin. You slowly close your hand over these two coins and instantly they become the silver Walking Liberty half dollar! The foreign coins have instantly and magically jumped to your other hand! A series of baffling transpositions follows and at the finish, all the coins are left in the spectator's hands for examination.
But there's MORE! This deluxe set comes with additional coins and gaffs to enable you to perform many, many additional routines. The video tutorial supplied will delight you with the many possibilities! Watch just a FEW of the possibilities below!

Check out the demo here (NOTE - the demo shown here features the Morgan Dollar set, but the effect and routine are the same. )

This already baffling mystery is further enhanced by the fact that the coins are so completely different in appearance (with the Chinese coin actually having a hole in it!). The coins themselves are top of the line quality, with the very finest precision-machining where necessary. The Chinese Palace coins are beautiful and the Walking Liberty replicas are gorgeous. You'll be proud to own and perform with this top of the line coin set.
FRONT SIDE OF THE COINS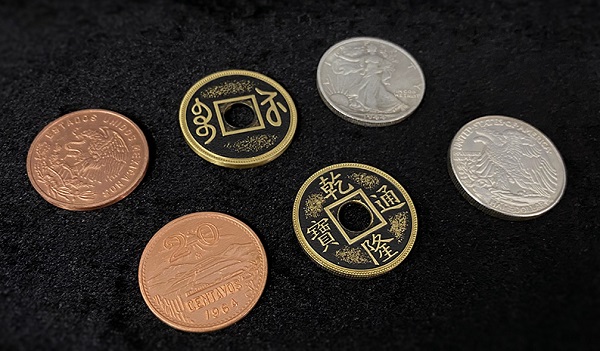 BACK SIDE OF THE COINS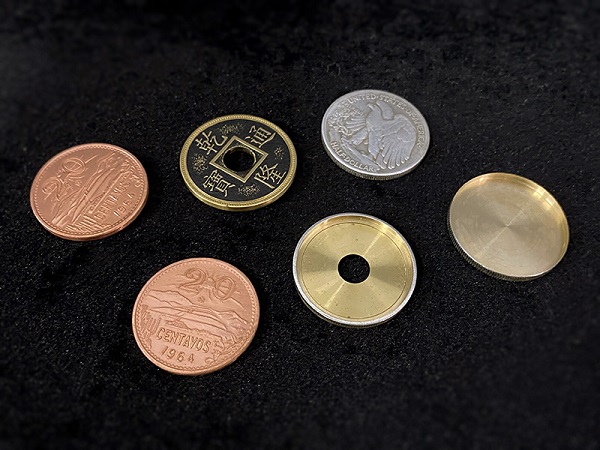 There is NO sleight of hand necessary for this amazing multi-phase effect. If you can hold the coins, you can do the routine! Includes all coins plus a link to an in-depth on-line video tutorial.
Suggested retail price for this deluxe coin set is $79.95. My price to you is only...
$47.95
PLEASE NOTE - If you are not ordering for U.S. delivery, you MUST contact me BEFORE ordering to determine shipping options and rates. The flat rate postage fee DOES NOT APPLY to orders shipped OUTSIDE the United States. Simply send me a list of the items you wish to order and I'll get back to you with the shipping options and rates. Once you decide how you'd like the order shipped, I can send a PayPal invoice directly to you (or we can work out other payment arrangements, if necessary). Thank you!
Copper Silver Brass Transposition - Walking Liberty Half Dollar
Product Code: CSBWL - RB1
Availability: 11
Related Products
Tags: copper, brass, silver, transposition, coins, money, magic, walking, liberty, half, dollar