BACK IN STOCK!!!

I'm so happy to finally be able to supply these again! They were unavailable for many years (at least in *this* quality), and I had numerous requests for it. When a used one would come up, it would get SNAPPED up at a PREMIUM price! But now... it is readily available and I have it in stock!
There are numerous routines possible with this precision-machined prop, but at it's most basic, a borrowed ring appears within the sealed brass container. The method is quick and positively diabolical. The precision machining is what really puts this wonderful piece over the top. You can safely leave it in the spectator's hand without fear of them finding *anything*!
A ring is borrowed by the performer and then caused to vanish. A small brass container has been sitting in full view on the table from the beginning of the routine. The spectator is given this container to open. The spectator begins to unscrew the top of the cylindrical box and it takes many, many turns, due to the extremely fine threading. Once the lid eventually comes from the box, the spectator discovers the missing ring inside!
You'll be amazed and thrilled at the ingenious design of this amazing prop.There's even a velour-topped cushion inside to make it look like a high-end jewelry/ring box!

PLEASE NOTE - Even though it's most commonly known as a "Ring" Casket, you aren't limited to rings! Use it for coins, lapel pins, or other small objects! And yes, you can re-set it instantly if you're performing strolling magic, table-hopping, bar or restaurant work, etc.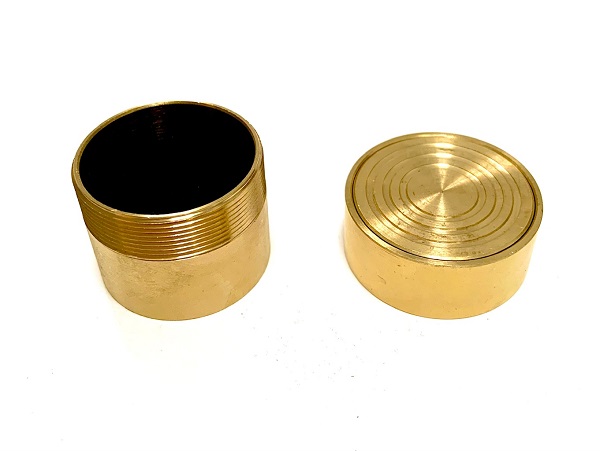 Comes complete with the precision-machined prop, velveteen carrying bag to protect the beautiful brass finish, and photographically-illustrated instructions. The suggested retail price for this feature item is $49.95. But YOU can own one today for only...
$34.50

PLEASE NOTE - If you are not ordering for U.S. delivery, you MUST contact me BEFORE ordering to determine shipping options and rates. The flat rate postage fee DOES NOT APPLY to orders shipped OUTSIDE the United States. Simply send me a list of the items you wish to order and I'll get back to you with the shipping options and rates. Once you decide how you'd like the order shipped, I can send a PayPal invoice directly to you (or we can work out other payment arrangements, if necessary). Thank you!

Deluxe Ring Casket
Product Code: DRC - RB21
Availability: 2