FIVE COLOR LIGHT ROSE - Electronic

This one is just about as pretty as they come! The magician appears on stage with a long-stemmed white rose. He turns the rose completely around to show all sides. With a magical gesture, the white rose instantly changes into a glowing red rose! In the blink of an eye, the red rose changes into a blue rose, then it changes into a green rose. When you think it can't change into any other colors, a glowing pink and a glowing orange rose appear in sequence.
The colors, changes, and color sequences are completely under your control at all times, due to miniaturized push-button technology. This rose is TRULY a marvel of modern micro electronics!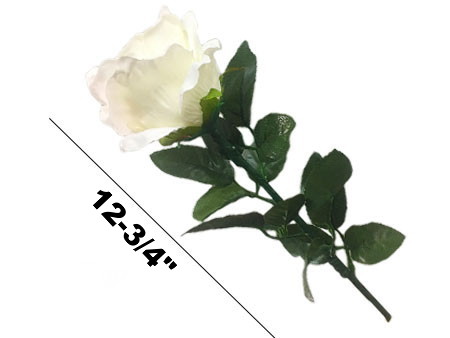 Ideal when used in conjunction with our Flash Thumbtip 2.0 or Electronic Flash Wand.
Includes Five Color Electronic Light Rose - charger - complete instructions.

Suggested retail price is $44.95. Order one today for only...
$27.95
PLEASE NOTE - If you are not ordering for U.S. delivery, you MUST contact me BEFORE ordering to determine shipping options and rates. The flat rate postage fee DOES NOT APPLY to orders shipped OUTSIDE the United States. Simply send me a list of the items you wish to order and I'll get back to you with the shipping options and rates. Once you decide how you'd like the order shipped, I can send a PayPal invoice directly to you (or we can work out other payment arrangements, if necessary). Thank you!
Five Color Light Rose
Product Code: FCLR - MB17
Availability: 2
Related Products
Tags: Five, Color, Light, Rose, magic, trick, transformation, electronic